Support Your Park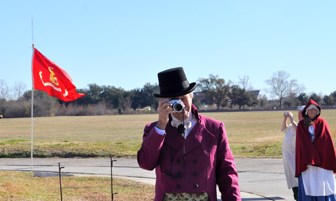 The National Park Service cares for America's treasures, and you can help.
Be a good park visitor. Take nothing but photographs, leave nothing but footprints. Enjoy yourself and remember future visitors who will come after you hoping to enjoy these American treasures too.
Volunteer. There's nothing more rewarding than warm thanks from visitors who've just seen their first alligator or danced their first Cajun two-step! Find out about special volunteer opportunities from native tree planting to living history programs to park site cleanups by following Jean Lafitte on Facebook or Twitter.
Support park stores. Stores run by cooperating associations in National Park Service areas donate a share of their proceeds to help fund special exhibits, programs, and projects. Each one of Jean Lafitte's six sites has a park store with DVDs, CDs, books, NPS and park collectibles, and more, including items just for kids.
Donate to Jean Lafitte (email the park to find out how). If you donate directly to the park, the entire gift will be used to fund projects such as special exhibits, the Junior Ranger program, and preserving natural areas or cultural treasures. Your check will be deposited in a government account and the full amount will be used to support park needs. No administrative cost will be deducted.
Donate to the National Park Foundation, the official charitable partner of the National Park Service. Your support can fund volunteer projects, special exhibits, education programs for all ages, and scientific research.
Stay in touch with Jean Lafitte via social media.


Last updated: December 23, 2021