Social Media Connections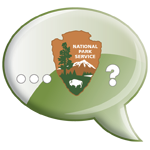 Join the Conversation!
Stay connected and learn what is happening at Jefferson National Expansion Memorial. You will be able to share with us and others your experiences at the Gateway Arch and Old Courthouse. We want to connect with you-and keep you connected to us, by meeting you at the places where you are and expect us to be.

Facebook
Be our friend on Facebook! Even if you don't have a Facebook account, you can still see all the content on the Gateway Arch National Park Facebook page. Occasionally, we'll ask a thought provoking question, tell you "what is happening now," engage in conversations, and post photos and videos.

Instagram
Take a look at the
Gateway Arch National Park Instagram
page. We post park related photos and information that is relevant to St. Louis and the surrounding area in addition to National Park Service news and events.

Twitter
Follow us
@GatewayArchNPS
and receive park updates, news releases, photos, and videos. .

flickr
See our photos on flickr! Make tags and comments. Get photos you can use, photos of the park as it is today, current events. Can you help us identify construction workers in our historical photos?

Archives flickr site
(historical photos)

Meet the Team - Ever wonder who is behind those posts on Facebook? Meet the park's social media team!
Last updated: May 5, 2021