Meet the Social Media Team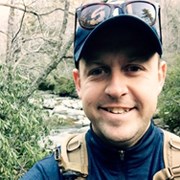 Coty
has been at Gateway Arch National Park for 14 years. He has worked as a Park Guard, Park Dispatcher, and as a Law Enforcement Officer here at the Arch and Old Courthouse. Having an affinity for all things social media, Coty felt compelled to be part of the social media team and as a member of the Law Enforcement Division; he felt his unique view of the park could help round out this very talented and diverse group. When not posting mediocre iPhone photos or responding to visitor comments, Coty likes mountain biking, hiking, golfing, and woodworking among a plethora of other hobbies that he rotates through nearly weekly.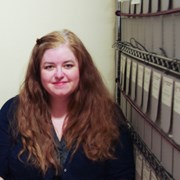 Jen is the park archivist. Eager to prove that archivists are about outreach and not lingering in dusty basements, she was thrilled to become part of the Social Media Team. She spent many a family vacation at NPS battlefields up and down the east coast, but never expected to end up working at a park herself! She enjoys working at an urban park and tries to get out and enjoy downtown St. Louis as much as possible. Jen came to the park from library school and has worked here for seventeen years. The scope of the museum collections keep her intrigued with the park's history and themes, and she hopes through social media to bring interesting facts about the collections to the public. As well as Facebook updates, she contributes Way Back Wednesdays and half of the entries for the Artifact of the Month blog.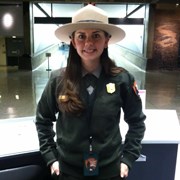 Melissa is a Park Guide, and it shows. With an outgoing and friendly personality interaction with visitors is fun and (hopefully) exciting. Being part of the social media team just seems like a natural extension of her Park Guide status as yet another way to connect with visitors. Melissa is new to St. Louis, originally from Colorado; she spends a lot of her free time trying to get familiar with the city and the different opportunities it offers. So far she has discovered: PI, Pappy's, Central West End, the Delmar Loop, Saint Louis Bread Co. (known to everyone else in the world as PANERA), Hardee's (which is Carl's JR to people from the West), and of Course the St. Louis Blues Hockey team!! (It's not baseball season yet, but surely she can be persuaded to be a Cardinals fan over a Rockies fan.)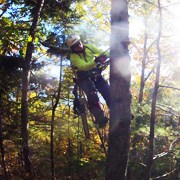 Michelle has worked for the National Park Service for 15 years. She began in the student STEP program while in college and is currently the Grounds supervisor and Park Arborist. She is also part of a NPS group of Arborists called the AIR team (Arborist Incident Response) that travel to other parks to assist with technical tree work. Her passion for trees and the outdoors is often reflected in her photographs. Working in an urban oasis allows her to view its many blessings as well as adversities. She cares very deeply for the landscape and all the wildlife that visits and is 100% committed in the mission to preserve and protect for future generations, which includes the bees too. She spends her free time hiking, gardening, kayaking, studying martial arts, and discovering as many National Parks as possible.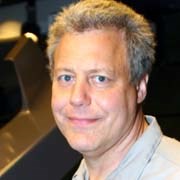 Ross has fifteen years' experience with Gateway Arch National Park's Media Services Department, serving as a photographer, videographer and motion picture projectionist. Prior to his NPS position, he worked in television and radio in Florida and Illinois. If you haven't seen him at the Arch, chances are you've probably heard him - his is the voice instructing you to empty your pockets into the plastic containers when you first enter the facility. Ross hopes to offer some behind-the-scenes glimpses of life at the Arch, and is looking forward to working with Sue in producing some Ranger Minutes for social media. He enjoys reading, bicycling and traveling with his wife. He is also a passionate sports fan, pledging his undying support to the Blues, Rams...and the Cubs.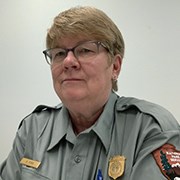 Sue has been at Gateway Arch National Park for all of her twenty-two year National Park Service career. The first five years were as a Motion Picture Projectionist in the Media Services Department. Then in 2001 an Exhibit Specialist position opened and she has been there ever since. The job encompasses a little of everything from maintaining exhibits in the Museum under the Arch, photography, graphics production and working on the park website. Since having worked on the park website for the past fifteen years, it just seemed natural to be a part of the Social Media Team posting on the Gateway Arch/NPS Facebook, Instagram and Flickr sites. Sue enjoys spending her free time reading, bicycling, watching St. Louis Cardinals baseball and most of all photography.
Last updated: August 18, 2020