Laws & Policies
Firearms and Other Weapons
As of February 22, 2010, a federal law allows people who can legally possess firearms under applicable federal, state, and local laws, to legally possess firearms in this park.
It is the responsibility of visitors to understand and comply with all applicable state, local, and federal firearms laws before entering this park. As a starting point, please visit our state's website, https://law.justia.com/codes/missouri/2019/title-xxxviii/chapter-571/

Federal law prohibits firearms in certain facilities in this park; those places are marked with signs at all public entrances. These facilities include the Arch Visitor Center, the Old Courthouse, and all Maintenance facilities.
---
Superintendent's Compendium
Federal law requires that park Superintendents maintain a written compilation of all designations, closures, permit requirements, and other restrictions imposed under discretionary authority. This compilation, known as the "Superintendent's compendium," is updated annually and be made available to the public.
Read the Superintendent's compendium for Gateway Arch National Park, and learn more about the closed circuit television monitoring (CCTV) policy.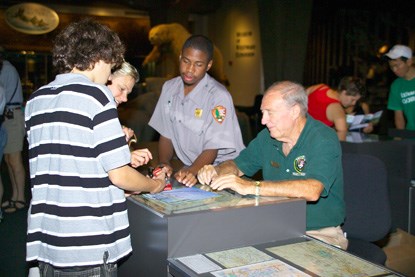 Laws and Policies FAQ
The Superintendent's Compendium contains all regulations, closures, designations, permit requirements, or other policies made by the superintendent. Below are some frequently asked questions about specific rules and regulations here at Gateway Arch National Park. Consult the Superintendent's Compendium for further information.
Security checkpoint to enter the arch facilities
What items are prohibited?
Guns, tasers/stun guns, mace, pepper spray, explosives, knives with blades over 4", brass knuckles, swards, etc. are not allowed. For a complete list of prohibited items, see the superintendent's compendium. Any items determined by security staff to be potential weapons may be refused entry.
Can I enter with large bags, strollers, or wheelchairs?
Yes. All packages, bags, and containers must fit through the Safe Passage X-ray and must be kept in the possession of the visitor at all times. All mobility devices including wheelchairs and strollers will be physically searched. When riding to the top of the Arch, strollers and wheelchairs may be temporarily left by the stairs in the tram loading area.
Are food/drinks allowed?
Yes, but they must have lids. Liquid or food without lids will not be admitted as these items cannot be screened. Inside the museum galleries, consuming food (including chewing gum, candy, or beverages, or the use of smokeless or other tobacco products, as well as electronic cigarettes) is prohibited, except at times and locations authorized by a Special Use Permit or by specific permission of the Superintendent.
Can I bring my pet?
Leashed pets are welcome on the grounds of Gateway Arch National Park, but Gateway Arch Visitor Center and The Historic Old Courthouse are closed to pets. Prohibitions do not apply to:
Emergency search and rescue missions
Law enforcement patrol or bomb dogs
Qualified service dogs accompanying persons with disabilities per the American Disability Act. (NOTE: Companion/Emotional support animals are not service animals and have no access rights under federal statute except when in relation to PTSD as stipulated in ADA guidelines.)
Outdoor activities
Can I fly my drone around the arch?
No. Launching, landing, or operating an unmanned aircraft (UA) from or on lands and waters administered by the National Park Service within the boundaries of the Gateway Arch National Park is prohibited except as approved in writing by the regional director.
Can I ride my bicycle on the arch grounds?
Yes. Bicycling on the Arch Grounds pedestrian walkways is allowed so long as it does not interfere with pedestrians or detract from the overall enjoyment of the park. E-bikes are allowed in Gateway Arch National Park in all places where traditional bicycles are allowed.
Can I bring my dog?
Yes. Dogs are welcome on the arch grounds. They must be restrained on a leash which shall not exceed six feet in length at all times. In all areas of the park pet excrement shall be removed immediately from the park, or deposited in a refuse container by the person(s) controlling the pet(s).
Can I ride my motorcycle on the arch grounds?
No. Vehicular traffic within the boundary of the Arch Grounds, staircases, ramps, and the sidewalks surrounding the Arch Grounds is prohibited with the following exceptions:
Authorized NPS vehicles
Authorized St. Louis City Police, Fire, and Emergency Medical Services and ambulance contractors
Service vehicles authorized for deliveries
Vehicles authorized in appropriate lots during operating hours
Gateway Arch National Park employees in appropriate lots and at appropriate times as authorized by the Superintendent
Vehicles operating under the authority of a Special Use Permit
Vehicles authorized for use by contractors
Is picnicking allowed?
Yes. individual and family picnicking is limited to picnic baskets, brown bagging, lunch boxes and the like as there are no designated picnic sites or picnic tables. Possession of glass bottles and containers, with the exception of baby bottles and souvenir items purchased at park concession operations for at-home consumption, is prohibited within the boundary of Gateway Arch National Park.
Can my sports team play a game under the arch?
Small impromptu pickup games that do not adversely impact the designated natural and cultural resources within designated areas will be allowed, e.g. Frisbee, hacky sack or similar low impact games. Larger events may be possible, but a Special Park Use permit is required.
Can I put my boat in a reflecting pond? Can I fish in them?
No. The reflective ponds are cultural landscape features and not established for the purpose of water-based sports or use of water-based devices such as boats, kayaks, boards, inflatables, etc. They are not stocked with native game fish species.
Can I smoke?
Smoking and use of electronic cigarettes (e-cigarettes) is prohibited within 25 feet of any entrance or exit, within all government buildings/facilities/vehicles, at all park partner/tenant facilities located within the park, and within 500 feet of any fuel storage dispensing facility. If these stipulations are met, smoking is allowed.
Is camping allowed?
No, There are no designated camping areas within the boundary of Gateway Arch National Park.
Are fires allowed?
No, there are no designated areas for fires or use of charcoal grills or propane stoves. There are no safe areas to dispose of ashes or hot coals on the grounds.


Last updated: February 21, 2023