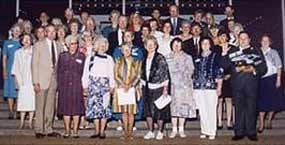 Get Involved
Get To Know Us | Get The Picture
Volunteers in National Park Service (NPS) sites support the park and its employees in carrying out the dual mission of protecting America's natural and cultural resources and providing recreational opportunities for the public. Volunteers at NPS sites are called Volunteers-In-Parks, or VIPs.

At Gateway Arch National Park, more than 200 volunteers work with National Park Service employees at the Gateway Arch, the Museum, and the Old Courthouse. VIPs work on weekdays, weekends, mornings, afternoons, or evenings (during the summer), with a minimum of four hours per week. The schedule and amount of time worked will be negotiated. Parking is free to all volunteers, and reimbursement is provided for Bi-State Metro Link and bus fares. Training for all duties is provided. Uniforms are provided for volunteers who work with the public.

Volunteer to be a part of our staff, which serves more than 3 million visitors each year! Apply to volunteer at the Gateway Arch and the Museum or the Old Courthouse. Other volunteer opportunities may exist in the park Library and Archives or in the Exhibits, Education and Administrative offices.