Volunteer Spotlight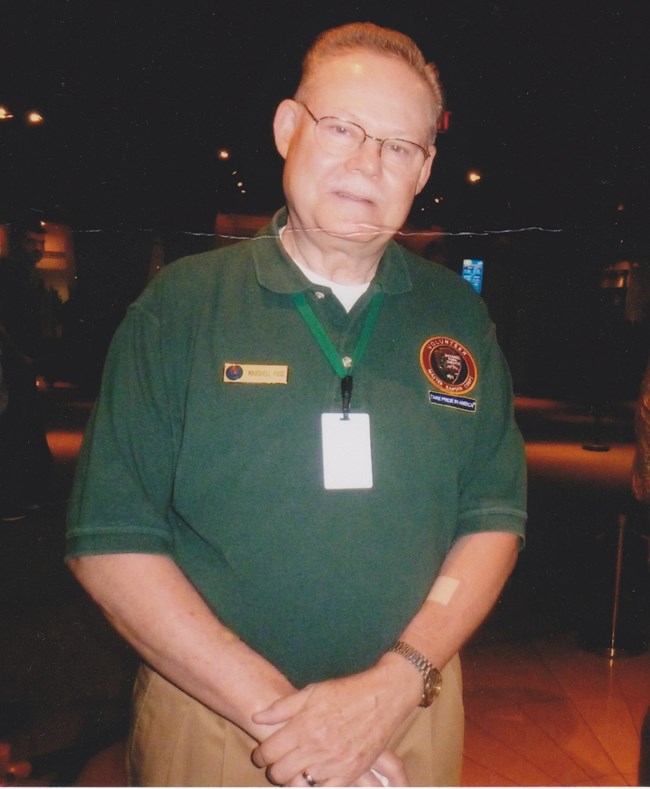 Volunteer Spotlight: Marshell Foss

As we celebrate our many volunteers during National Park Week, we are spotlighting one who has made a lasting impact on Gateway Arch National Park and its visitors.

Marshell Foss, Army vet and former secondary school educator, has served as a Gateway Arch National Park volunteer for 14 years, working on countless projects and brining joy and knowledge to its visitors.

"It was a late summer day in June 2007, while visiting the Gateway Arch and taking a deserved rest on one of the benches situated in the Lobby, my eyes followed the uniformed Park Rangers and others moving about performing their assigned duties. I noticed that much of their work was addressing visitors' questions and even acting as individual tour guides. Within a short period of watching what was going on, I concluded that, "I could do that," and more importantly, "I want to do that!" I approached the Information Desk and asked if they accepted volunteers. For once in my early retirement, I was "excited" as this person directed me to an individual who helped me "become one of them!"

Marshell's involvement was not limited to working the information desk. He shifted between working special events, assisting with the Junior Ranger program, giving tours at the Old Courthouse, and helping with administrative tasks. He loved working with families attending events that involved fun and games and experienced the greatest reward while helping Junior Rangers earn their badges.

"I truly believe my experience as a Volunteer has been a major part of my life, and hope that I have made a meaningful and positive difference toward these objectives. From the National Park Service representing the sacred landscapes and monuments that reflect our unique past, to the education and awareness of today's generation, the teamwork I witnessed among the staff throughout the Gateway Arch National Park have all made it possible for me to learn and feel proud to be an American!"

If you are interested in becoming a volunteer at Gateway Arch National Park, please visit the volunteer page to learn more.
Last updated: April 14, 2021