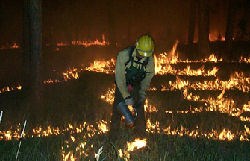 Fire is both beneficial and inevitable. Prescribed fire is used as a tool to reduce fuel loads, manage vegetation, and mimic natural processes. Writing a fire prescription is complex, and takes into account weather, fuel type, fuel moisture, the objectives of land managers, and feasibility. Since fires will happen whether we light them or not, it is best to plan them ourselves, under the right conditions, rather than be surprised by a costly and catastrophic wildfire.
The most recent prescribed fire at Jewel Cave was the Hill Top Fire, in October 2008. It burned low to the ground and spread slowly, meeting the fire objectives by removing built-up fuels on the forest floor.
In 1999, the prescribed Lithograph Canyon Fire was used to reduce fuel loading near the visitor center and administrative areas of the Monument. Less than a year later, the Jasper Fire, the largest wildfire in Black Hills history, started west of Jewel Cave. The area that had been burned in the prescribed fire did not burn as hot as other areas of the Jasper Fire. This slowed the fire's advance toward the visitor center and other park buildings, and very likely helped to save them.