The Jasper Fire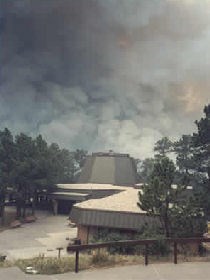 On August 24, 2000 an enormous wildfire started just west of Jewel Cave. Named the Jasper Fire, it burned a total of 83,508 acres in the southern Black Hills and approximately 90% of the land area of Jewel Cave National Monument.
Jewel Cave was evacuated, and remained closed until September 2, when the danger had passed and the fire was nearly contained. As the fire swept through the monument, important documents, maps, and computers were brought into the cave for safekeeping.
Due to the hot, dry conditions and an abundance of fuel on the forest floor, the fire spread quickly and with severe intensity. In just the first day, the fire consumed an average of about seven football fields of forest per minute.
Firefighting efforts saved all of the structures on the monument. The recently restored historical cabin near the cave entrance was foamed several times to save it from the fire.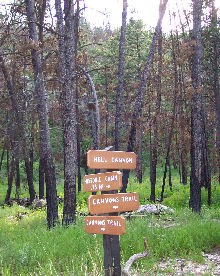 Years Later
On your visit to Jewel Cave, you will certainly see evidence of the Jasper Fire. Burned trees continue to fall, causing closures of the hiking trails on windy days. Some of the trees that survived the fire exhibit brown pine needles and black bark. The forest floor, no longer thick with ash, hosts a variety of plants that have rebounded since the fire.
Last updated: April 10, 2015