Operating Hours & Seasons
2020 COVID-19 Changes for Park Operating Hours
As of June 26, 2020, the park is open for the 2020 season.

The Houghton Visitor Center is operating within its normal summer hours.

Island Visitor Centers at Rock Harbor and Windigo will be open intermittently for the duration of the 2020 season.
Please call the Houghton Visitor Center at (906) 482-0984 or e-mail ISRO_ParkInfo@nps.gov for specific hours.
Read more about the impacts of COVID-19 at Isle Royale National Park.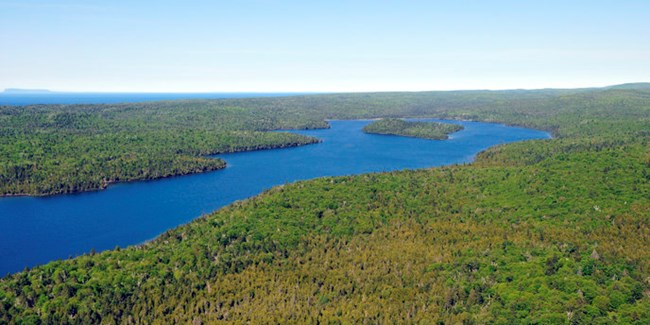 Isle Royale National Park is open every year from April 16 through October 31. The island is closed from November 1 through April 15 due to extreme winter weather conditions and for the safety and protection of visitors. This closure extends 4.5 miles out into Lake Superior from the island. The park headquarters during the winter is in Houghton, Michigan. The summer headquarters is located at Mott Island on Isle Royale National Park.
Visitor Centers & Administrative Offices Locations & Hours
Houghton Visitor Center
Location: 800 E. Lakeshore Drive, Houghton, MI 49931
Seasons & Hours:
June 1 - September 15: Monday-Friday 8:00 am - 6:00 pm EDT, Saturday 10 am - 6 pm EDT
September 16 - May 31: Monday-Friday 10:00 am - 4:00 pm ET
(closed for fall and winter holidays)
---
Rock Harbor Visitor Center
Location: Northeast end of Isle Royale National Park
Seasons & Hours:
May, June, and September: Reduced schedule; contact the park for updated hours
July and August: Daily 8:00 am - 6:00 pm EDT
---
Windigo Visitor Center
Location: Southwest end of Isle Royale National Park
Seasons & Hours
:
May, June, September, and October
: Reduced schedule;
contact the park
for updated hours
July and August
: Daily 8:00 am - 6:00 pm EDT
---
Administrative Offices
Location:
May - September: Mott Island, Isle Royale National Park
Year Round: 800 E. Lakeshore Drive, Houghton, MI 49931
Seasons & Hours:
June 1 - September 15: Monday-Friday 8:00 am - 4:30 pm EDT
September 16 - May 31: Monday-Friday 10:00 am - 4:00 pm ET
(closed for fall and winter holidays)


Last updated: June 26, 2020