Community Science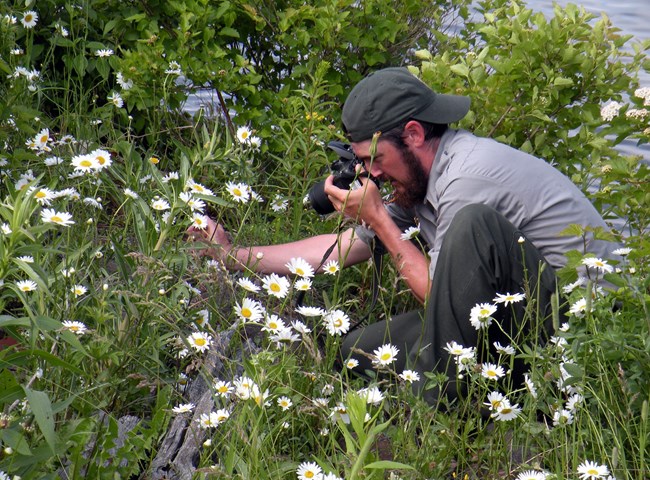 Community Science is a program that allows park visitors and community members to get involved in Isle Royale National Park research projects, in order to increase community engagement and enhance understanding of island ecology.
Isle Royale Investigators
Isle Royale Investigators is the Community Science program at Isle Royale. This program allows participants to help collect data for current natural resource projects on the island. Current projects include:
Isle Royale Pollinators
Isle Royale Wolves
Isle Royale Fungi
Get Involved
To join Community Science and become an Isle Royale Investigator, follow these steps:
Download the iNaturalist app on your smartphone, or visit the iNaturalist website on a computer.
Create an account.
Find "Isle Royale Investigators" in the search bar navigation and select "join" to add yourself to the group.
Start recording your observations from the island by uploading a photo or sound.
Your observations will be automatically added to the Isle Royale Investigators program, and to corresponding research projects.
Didn't visit the park this season? You can still participate remotely by logging on and uploading past observations, or by helping identify the observations of other Isle Royale Investigators.

For assistance, see partner video-tutorials: How to Make an Observation on iNaturalist, and How to Join a Project on iNaturalist.
Impact
As a small, remote National Park, Isle Royale researchers and staff are limited in their ability to maintain large scale monitoring projects. The contributions of park visitors and community members can help! These contributions provide researchers with vital information needed to monitor populations and understand ecological trends on the island.
Your Observations at Work
The observations recorded by program participants will be collected by Isle Royale researchers and staff to be analyzed. This data will help researchers make informed natural resource management decisions in the future.
Research Video Library

See what scientists in the park are up to with videos featuring various Isle Royale research projects.

Flowering Plants

Isle Royale is home to over 600 flowering plants, several of which are rare or found only in small populations.

Wood Frog

Isle Royale Research and Monitoring

"Frog loggers" record amphibian sounds around Isle Royale. Learn more about research conducted across Isle Royale.
Last updated: August 1, 2022