Christina Kionka (Artist-in-Residence, 2001)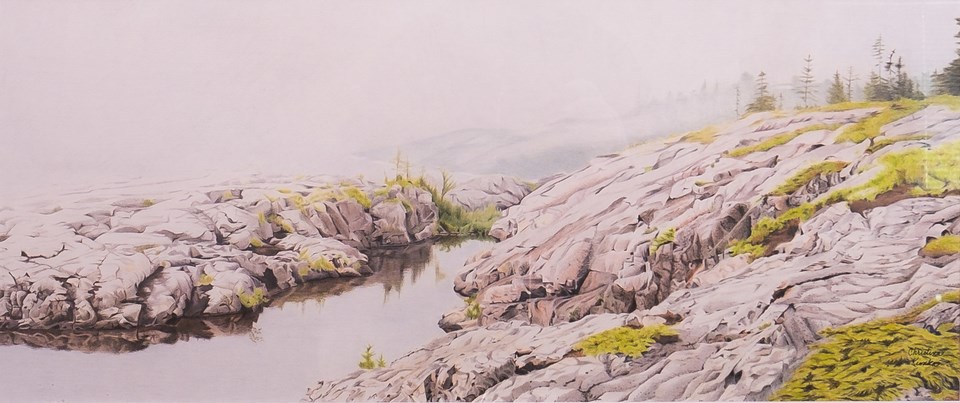 Isle Royale Reflection
"At the Dassler Cabin, I was immersed in weather and landscapes. I kept warm by cutting dead wood scrounged from the ground in the surrounding area. I dipped into the lake for water to drink and with which to cook. I sat quietly, watching winter wrens collect food for their young. I watched mergansers circling noisily in the lake to attract food. When their merganser mom climbed a rock in the little bay, the fuzzy young tried to climb up beside her, but they kept sliding off the slippery rock. A young hare loped down a path right toward me until it realized I was not a stump. It seemed that white-throated sparrows were everywhere, chirping at me.

Following moose on the trail, hoping not to be discovered, I managed to get a few pictures. I also photographed rock declivities, cliff faces, harebells, butterworts and butterflies. Watching sunrises early and northern lights late, I napped in-between. I rode on the "Sandy" boat tour to every place it went; to Passage Island and Edisen Fishery, Minong Mine and the northern shore.

The scariest times were the two talks I was to give about my art. I am more of an introvert and the audience had no idea how scared I felt. Once I got going, however, it was fine. People I met were kind and interested. One woman loaned me her kayak for the day. I explored Tobin Harbor, every inlet and bay. Another woman said my talk inspired her to do more writing, something she loves. A little girl at the talk gave me a big hug. I thoroughly enjoyed my stay on Isle Royale, every minute!"

-Christina Kionka, December 2018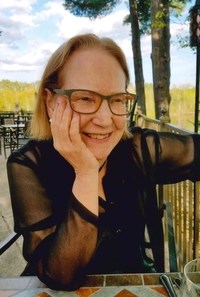 About the Artist
Christina was an Isle Royale Artist-in-Residence from July 17th to August 4th, 2001. She was born in Detroit and grew up in the towns of Royal Oak and Troy. Always outside by choice, there were times she spent indoors drawing in imitation of her eldest sister whose drawings she admired. She eventually went off to college at Michigan Technological University to study for a BS in Forestry. By this time, she mostly drew trees, birds, plants and streams.

Life took her to new places and cut into drawing time. By the time she was in her forties, she wanted to do more in art. She took a Community Education class in colored pencil drawing in Iron Mountain, MI, taught by Betsy Holster. For the next 20 years she used her skills to create detailed pictures of the natural world.

Gradually, she noticed that colored pencil done in such a photo-realistic way was not filling the void in her heart. It is so labor-intensive and takes months to accomplish. She wanted something different and tried pastel abstracts. After a bit, she tried collage using cast-off books from the library and old postcards from somewhere. She has been making these for about a year, and enjoys the process very much. There are no road maps for abstracts and she loves the exploration. See Christina's work with collage on her personal website. You can also see more of Christina's paintings on Flickr.

She has had more than 25 jobs in her 70 years. She has dumped garbage, checked-in deer and waterfowl for the DNR, worked as an assistant librarian, a secretary, taught the Ojibwe Language and Culture and worked as a Reading Specialist. Now she is retired and free to play with paper, glue and old books. She lives and plays in Iron Mountain, MI, in Michigan's Upper Peninsula.
Search by Year

Search past Isle Royale Artists-in-Residence by year of their residency.

Search by Artist

Search past Isle Royale Artists-in-Residence by last name.

View Gallery

View past Artist-in-Residence artwork sorted by medium.
Last updated: December 26, 2019