Betsy Holster (Artist-in-Residence, 1996)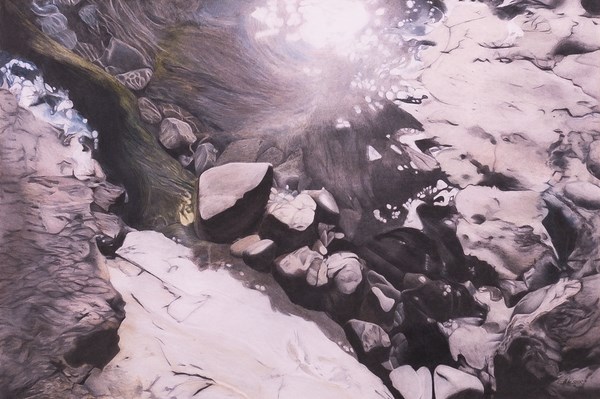 Isle Royale Reflection
"Lake Superior has long been my chosen fixation. The Artist-in-Residence program gave me an opportunity to spend almost three weeks focusing entirely on my interest in the lake and its environs. It enabled me to closely observe Isle Royale settings in a wide variety of weather and lighting conditions. I was able to explore the same sites at different times of the day, taking reference photographs that best reflected the ideas and emotions I wished to capture.
One of my friends described "the ultimate Isle Royale experience" as watching an antlered moose swimming from island to island. After they left Isle Royale, I was paddling by myself, deep in thought about this "ultimate experience" and what a shame it was that I wouldn't be able to see it. I was so deep in thought that I almost missed seeing a moose across the channel as he got into the water and swam, with his massive rack held about the water. When he came out on the other shore I allowed myself to drift a bit closer to watch. It was an "ultimate experience".
Where else can a person go hiking and feast on blueberries, strawberries, thimbleberries, and raspberries all on the same day? On the top of Lookout Louise there is a rock formation that seats one person comfortable, with a most stupendous view. We called this the "Queen of the Universe" chair and took turns soaking up the ambience.
The cabin provided by the Park Service has a bench where one can view both the sunrise and the sunset. After spending time at my own Lake Superior home facing west and only seeing sunsets, it was a real treat to be able to see both the beginning and the end of the day. It was also a wonderful place to watch the stars.
The time I spent on Isle Royale helped me to clarify what it is I want to say through my work. The in-depth experience made my drawings of the island setting stronger, richer and deeper. I want to use the setting of Lake Superior and the passion I feel for the Lake region to convey a sense of the interconnectedness of all aspects of the natural world. The intricate patterns found within rocks and water are some of the most fascinating natural designs that exist. I want to use these images as my vocabulary for expressing my vision."

-Betsy Holster*
About the Artist*
Elizabeth "Betsy" Holster was an Isle Royale Artist-in-Residence from August 9th to August 24th, 1996. She grew up in Minnesota and spent her summers among the many beautiful small lakes in the northern part of the state. After high school, she attended the University of Wisconsin at Madison, majoring in wildlife ecology before switching her major to art for her bachelor's degree. She moved to Houghton and enrolled in the School of Forestry at Michigan Technological University, where she met her future husband, an engineering student. After graduation they settled in Misery Bay, near Houghton, build a large log home, and, with their two children, lived there without running water or electricity. "We loved it."

In 1988, they moved to Iron Mountain and she commuted to Northern Michigan University for her master's degree in art. "We have kept our log home in Misery Bay, spending as much time as possible there, where we hope to eventually retire."

Since 2005, she has been a Professor and Program Coordinator of Art Education at California State University, Fullerton.

*[Source for all Betsy's page content: Root, Robert and Jill Burkland, editors. (2000). The Island Within Us. Houghton, MI: Isle Royale Natural History Association. p 94. Print.]
Search by Year

Search past Isle Royale Artists-in-Residence by year of their residency.

Search by Artist

Search past Isle Royale Artists-in-Residence by last name.

View Gallery

View past Artist-in-Residence artwork sorted by medium.
Last updated: December 26, 2019