Visiting Old City Hall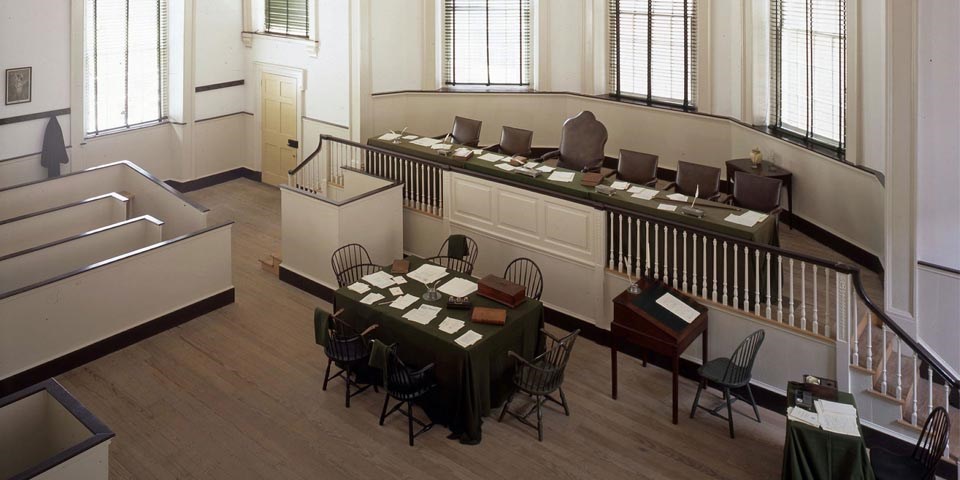 Location
This site is currently closed, except for the store located in the vestibule. Old City Hall is located at the corner of 5th and Chestnut Streets. Enter through the north door on Chestnut Street (turn the knob,
then
push the door open). This building sits adjacent to the security screening area. It's best to visit it prior to entering security.
Hours and Fees
Closed, except for the store located inside the building's vestibule. When open, capacity is limited to nine (9) visitors at a time.
Admission is
FREE
Ticketing
When open, no tickets are required to visit. Entrance to Old City Hall is on a first-come, first-served basis.
Exhibits
This is the room where the Supreme Court of the United States met from 1791-1800. Most of the furnishings are from the time period, but not original to the room.
Accessibility
Old City Hall is wheelchair accessible through the west door (look for the ramp). There is one step up into the courtroom; ask the ranger for the portable ramp. Learn more about the accessibility services offered throughout the park on our website.
America's National Parks Store on Independence Square
The store sits adjacent to the old Supreme Court chamber inside the building. The store is open Wednesday thorugh Sunday, 11am to 3pm. This America's National Parks Store offers a variety of souvenirs, such as miniature Liberty Bells, postcards, magnets, park ranger-recommended books and films, and t-shirts. Many fine gift items are available as well. A portion of the proceeds goes to support programming at Independence National Historical Park.
Last updated: January 7, 2021