Visiting Congress Hall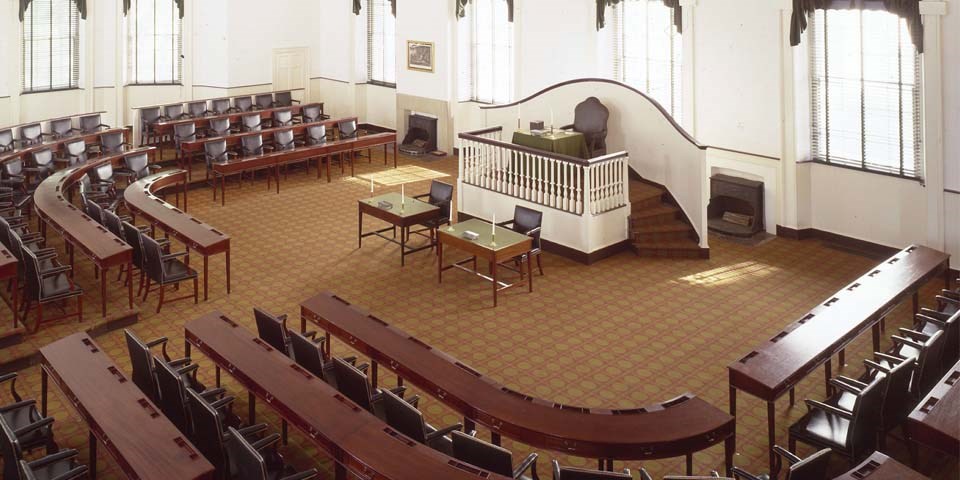 Location
Congress Hall is located on Independence Square, at 6th and Chestnut Streets. Entrance is through the security screening area at 5th and Chestnut Streets.
Hours and Fees
Open 9am to 5pm
Entrance is by tour only, first-come, first-served. Visitors (up to nine at a time) will be admitted every 15 minutes.
No tickets required
The security screening area closes 15 minutes prior to the building closure time.

Open 9am to 3pm on Christmas Eve. Closed Thanksgiving Day, Christmas Day, and New Year's Day.
Ticketing
No tickets are required to visit Congress Hall. Entrance is on a first-come, first-served basis.
Tours
Entrance to Congress Hall is by tour only. Tours begin every 15 minutes. Nine visitors are permitted on each tour. Visitors will see the chamber for the House of Representatives located on the first floor of the building.
Accessibility
The first floor of Congress Hall is accessible for those with mobility impairments. There is a photo album showing images of the upper floor for those not able to climb the stairs to the second floor. For those with hearing impairments, the "Birthplace of a Nation" pamphlet provides written information about the rooms shown on the tour. Learn more about the
accessibility services
offered throughout the park on our website.
Security
Visitors must pass through a security screening area to visit the buildings on Independence Square, including Congress Hall. The screening area is located adjacent to Old City Hall, near the corner of 5th and Chestnut Streets. To maximize your visit to the park, and minimize your security screening time, the park recommends that you bring only small bags, if necessary. The fewer items you have to be checked, the more time you will have to enjoy the buildings on Independence Square. No weapons, pepper spray, or pocket knives are permitted through security.
Last updated: October 14, 2020