Visiting the Great Essentials Exhibit in the West Wing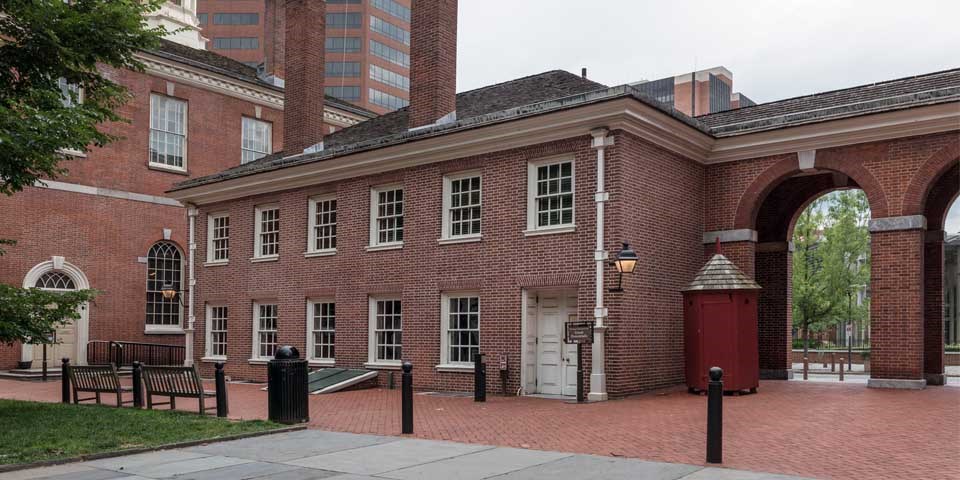 Location
The Great Essentials exhibit is located in the West Wing of Independence Hall, on Chestnut Street between 5th and 6th Streets. Entrance is through a security screening area on Chestnut Street, just west of 5th Street. After passing through security, walk past Independence Hall to the next small brick building. Enter through the south door.
Hours and Fees
The building is open daily: 9 am - 5 pm. Closed at 3pm on Christmas Eve, December 24.
The Great Essentials exhibit is closed on all major federal holidays except Memorial Day, Independence Day, Labor Day, Columbus Day, and Veteran's Day.

Admission is FREE.
Ticketing
No tickets are required to visit the Great Essentials exhibit. Entrance is on a first-come, first-served basis.
Exhibits
See original printed copies of the Declaration of Independence, the Articles of Confederation, and the U.S. Constitution. Also on display is the Syng inkstand, believed to be the silver inkstand in which 56 men dipped their pens to "mutually pledge their lives, their fortunes and their sacred honor" in the cause of independence. Flash photography is NOT permitted in this exhibit.
Accessibility
The West Wing is wheelchair accessible through the south door. Learn more about the
accessibility services
offered throughout the park on our website.
Security
Visitors must pass through a security screening area to visit the buildings on Independence Square, including the Great Essentials exhibit in the West Wing. The screening area is located adjacent to Old City Hall, near the corner of 5th and Chestnut Streets. To maximize your visit to the park, and minimize your security screening time, the park recommends that you bring only small bags, if necessary. The fewer items you have to be checked, the more time you will have to enjoy the buildings on Independence Square. No weapons, pepper spray, or pocket knives are permitted through security.
Last updated: December 6, 2018