Congress Hall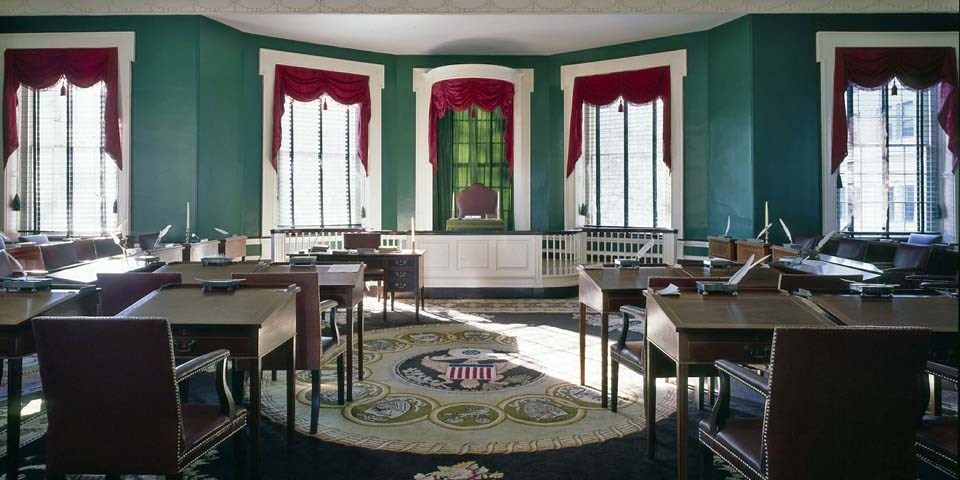 Constructed in 1787-1789 as the Philadelphia County Court House, this building served as the meeting place of the U.S. Congress from 1790-1800. The House of Representatives met on the main floor, while the Senate assembled upstairs.
The Building
In 1790, Congress selected Philadelphia to be the temporary capital of the United States. Philadelphians immediately offered the use of their new court house as a meeting place for the U.S. House of Representatives and the Senate, making Congress Hall the oldest building to serve as such. The city and county of Philadelphia spared no expense in furnishing the building to suit the needs of Congress, hoping to keep the capital in Philadelphia. When the size of the House grew from 65 to 106 members as a result of the first US Census, the city even paid to have the building expanded 28 feet to the rear. In 1800, according to plan and despite Philadelphia's hopes, Congress moved to Washington D.C. and this building became a court house once more.

During the 19th century, the building was used by Federal and local courts. The building, inside and out, has been restored as much as possible to the period of time when it served as the U.S. Capitol.
Key Legislation
Congress would do much to establish the nation in the 1790s, though not entirely without controversy. In response to threats on the high seas, Congress reestablished the U.S. Navy and Marines, and created a Navy Department to administer them. To better the nation's financial foundation, Congress passed legislation to raise revenue, establish a mint, and create a central bank. Economic and political pressures led Congress to pass the Fugitive Slave Act and the Alien and Sedition Acts; legislation thought by many to not only violate national ideals, but the Constitution itself. Debate over these crucial early issues greatly contributed to the birth of the two party system by the time the capital moved to Washington D.C. in 1800.
Inaugurations
During the decade that Philadelphia served as the nation's capital, Congress Hall was the scene of two presidential inaugurations. In 1793, with very little ceremony, President George Washington was sworn in for his second term in the Senate Chamber. In his Farewell Address four years later, President Washington made it known that he would not seek a third term. The first two party election was held in 1796, with Federalist John Adams defeating Democratic-Republican Thomas Jefferson by just three electoral votes. On March 4, 1797, Congressmen, foreign dignitaries, and a throng of the public looked on as John Adams took the oath of office in the House Chamber, making George Washington a private citizen. This first peaceful transfer of power demonstrated the potential of the American experiment in democratic government.
Additional Information
Last updated: August 25, 2017