Visiting the Benjamin Franklin Museum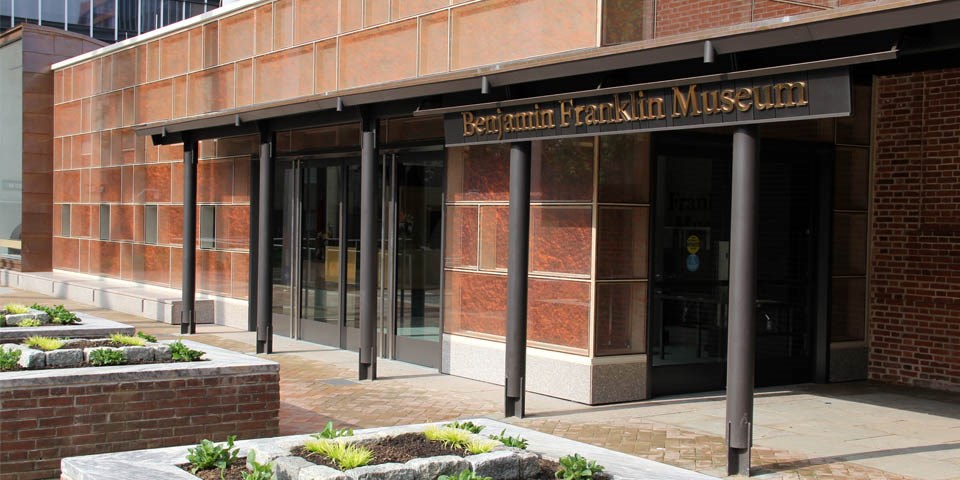 Location
The museum is located in Franklin Court. Entrance to the courtyard is from Market or Chestnut Street, between 3rd and 4th Streets.
Hours and Fees
Open daily: 9am - 5pm, year round

$5.00 for adults
$2.00 for children, ages 4 through 16
Children ages 3 and under are FREE
As part of the Every Kid Outdoors program, we are providing free admission to the Benjamin Franklin Museum for fourth grade children who have an Every Kid Outdoors pass. Up to three adults accompanying this child are also admitted free.

All visitors are admitted free to the Benjamin Franklin Museum on the following days in 2023:
Monday, January 16: Martin Luther King, Jr. Day
Saturday, April 22: First day of National Park Week
Wednesday, May 10: Social Studies in the National Park Festival
Friday, August 4: Great American Outdoors Day
Saturday, September 23: National Public Lands Day
Saturday, November 11: Veterans Day
Ticketing
Admission is available at the door and must be purchased on the day of your visit. Plan to allow at least one hour for your visit. The America the Beautiful Annual Pass, Senior Pass, and Access Pass do not apply at the Benjamin Franklin Museum.
Exhibits
Explore Benjamin Franklin's life and legacy through his character traits. The exhibit area is divided into five "rooms" with each room focusing on a particular trait: ardent and dutiful, ambitious and rebellious, motivated to improve, curious and full of wonder, and strategic and persuasive. There are videos, touch screen interactives, mechanical interactives, and artifacts in each "room." An additional area called the "Library" presents a video with excerpts from Franklin's Autobiography.
Benjamin Franklin Museum Store
The Benjamin Franklin Museum Store, operated by Eastern National, is located on the courtyard level of the museum. The store offers a wide variety of apparel, commemorative items, books, and other merchandise related to Franklin and colonial Philadelphia.
Accessibility
The Benjamin Franklin Museum is fully accessible for visitors with mobility impairments. An elevator allows visitors to access the museum. There are also accessible restrooms located on the lower level. Ask a ranger for an audio described tour of the museum. Tactile objects are located throughout the exhibit area.
Family Fun
Families will enjoy looking for the small squirrel figurines located throughout the exhibits. Franklin delighted in pet squirrels, or skuggs as they were known in his day. Read about the Skuggs mascot as you enter the exhibit area and then look high and low to find the figurines.
Images and Historical Information
Check out the photos and video of the Benjamin Franklin Museum below. Want to learn more about Benjamin Franklin and his contributions to society?
Additional resources about Franklin
are available on our website.
This short video highlights the Benjamin Franklin Museum, which opened on August 24. 2013. For closed captions, please visit: http://youtu.be/QT22TSrjjdo

Duration:

1 minute, 1 second
Last updated: September 23, 2023