School Group Reservations for the Benjamin Franklin Museum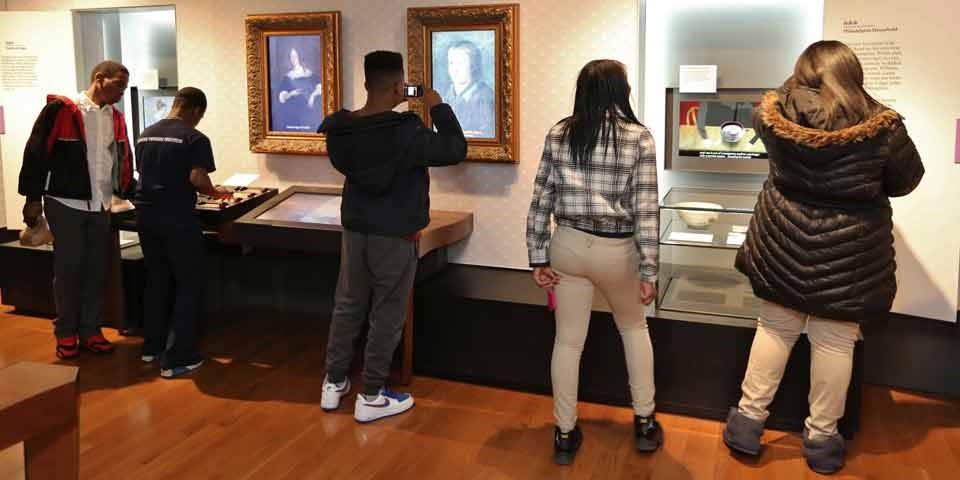 Fee Waivers - Who's Eligible?
School groups and other bona fide academic institutions (K-12 and colleges/universities) are eligible for FREE admission to the Benjamin Franklin Museum. Home schools may be granted a fee waiver if they can provide proof that they are recognized by their state's requirement for home schools. Not-for-profit groups: service, civic, fraternal organizations, scouts, 4-H, and similar groups, even when attending with school-aged children, do not qualify as an academic institution. The fee waiver only covers the students plus one chaperone for every ten students. Any additional chaperones must pay the museum fee.
*As part of the Every Kid Outdoors program, fourth grade school groups can have three adults per student admitted to the museum for free, regardless of whether they have an "Every Kid Outdoors" pass.
Letter of Request
Teachers must bring a signed letter on school letterhead requesting a fee waiver. The letter of request must address each of three criteria to qualify for an academic fee waiver: eligibility, educational purpose, and relevance of park resources. If the school group is separated while visiting the park, each group visiting the Benjamin Franklin Museum must bring a written copy of the fee waiver request letter.
Example of a fee waiver letter

School Letterhead

Date

Dear Fee Program Manager,

This letter is to request a fee waiver for our school's visit to the Benjamin Franklin Museum. This museum will help the students to explore Franklin's life and character. The purpose of our visit to the Benjamin Franklin Museum is to reinforce concepts that are included in the school's curriculum. We understand that the fee will only be waived for the students plus one adult for each ten students.

Thank you,
Name of teacher or principal

Reservations
For school group reservations, please email us at least two weeks prior to your visit with the following information. A team member will respond to your request shortly.
Name of Contact
Name of School or Educational Institution
Number of Students
Number of Chaperones
Requested Date
Requested Time
Email Address
Ten Digit Telephone Number
Reservations are not required, but are recommended. There is a limit of 100 tickets reserved for each hour. Reservations are on the hour (for example, 9AM, 10AM, etc.). A reservation is not a guarantee of free admission.
Last updated: October 7, 2022