Visiting the Franklin Court Printing Office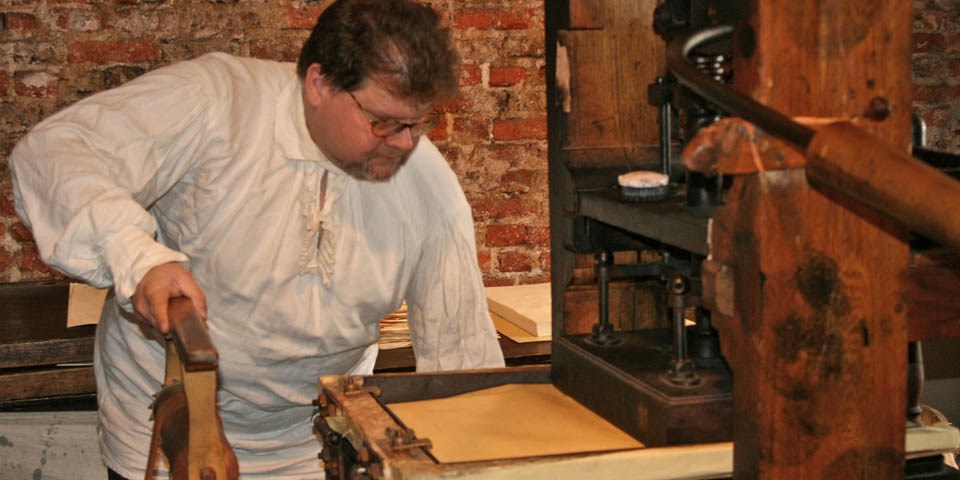 Location
The Franklin Court Printing Office is in Franklin Court. Enter the courtyard from either Market or Chestnut Street, between 3rd and 4th Streets. The entrance door for the Printing Office is in the courtyard, just to the west of the brick archway.

Hours and Fees
Open daily 10am - 5pm (last printing demonstration at 4:30pm)

The Printing Office is closed on all major federal holidays except Memorial Day, Independence Day, Labor Day, Columbus Day, and Veterans Day. The Printing Office closes at 3pm on Christmas Eve.

Admission is FREE.
Ticketing
No tickets are required to visit the Printing Office. Entrance is on a first-come, first-served basis.

Exhibits
The Printing Office exhibits include a typesetting area, two reproduction 18th century presses, a bindery, and the newspaper office of Franklin's grandson, Benjamin Franklin Bache. Visitors get to experience whatever the park ranger is working on - it could be typesetting or printing. On days with heavy visitation, rangers bring in groups of up to 60 people every 10 minutes for a printing demonstration.

Accessibility
The Printing Office is wheelchair accessible through the courtyard entrance door only. Learn more about the accessibility services offered throughout the park on our website.

Images and Historical Information
Check out these images from the Printing Office and other Franklin Court sites. Additional information about the Franklin Court Printing Office is available on the park's website.

Last updated: August 20, 2019