Visiting the Franklin Court Courtyard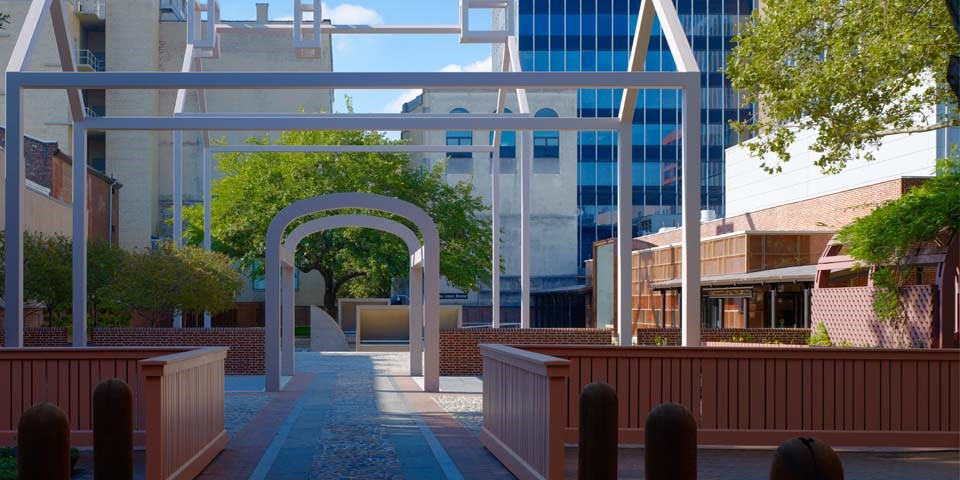 Location
The courtyard sits between Market and Chestnut Streets, and 3rd and 4th Streets. Enter through the gates and up the cobblestone path from Chestnut Street, or through the original brick passageway on Market Street.

Hours and Fees
Through September 3, 2018: Open 9am to dusk
It is an outdoor area, but there are locking gates at both the Market Street and Chestnut Street access points. The site is closed on Thanksgiving Day, Christmas Day, and New Year's Day.
Admission is FREE.
Ticketing
No tickets are required to visit the courtyard.

Exhibits
The courtyard exhibits include two modern steel "ghost" structures marking the locations of Franklin's home and his grandson's printing business. Look for the foundations of Franklin's home still embedded in the ground. The courtyard provides access to the Benjamin Franklin Museum, the Franklin Court Printing Office, the "Fragments of Franklin Court" exhibit, and the B. Free Franklin Post Office.

Accessibility
The courtyard is wheelchair accessible from both the Market Street and Chestnut Street access points. Learn more about the accessibility services offered throughout the park on our website.

Last updated: May 23, 2018