News Release
Passing of Independence National Historical Park K-9 Law Enforcement Ranger, Ken Franklin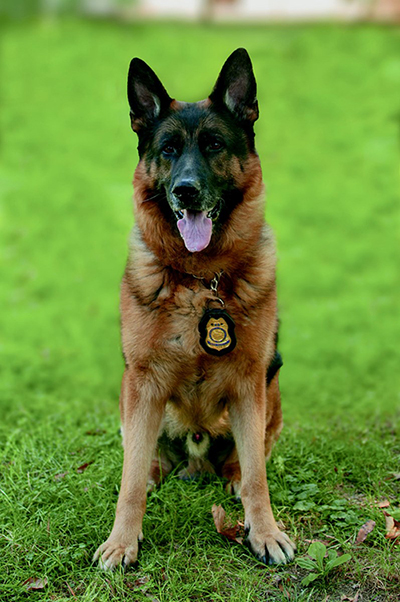 News Release Date:
November 14, 2019
Contact: Michael Slobodian, 215-597-0060
Philadelphia
–
It is with a heavy heart that Independence National Historical Park announces the sudden passing of one of our National Park Service (NPS) family members and beloved coworker, K-9 Law Enforcement Ranger Ken Franklin. Ken was an active duty member of our law enforcement team and passed away Wednesday, November 13, 2019 from a sudden medical illness.
Ken joined the NPS as a 2 ½ year old German Shepherd who completed a Philadelphia Police Department 10-week training course, and upon graduation on May 29, 2013, became an active duty federal law enforcement officer. He immediately, and throughout his law enforcement career, worked alongside his handler, NPS Ranger Nick Iannelli.
Ken put his training and incredible skills of explosive detection to work in the park each day. Whether it be a Presidential or Pope visit, a July 4th celebration, a concert, emergency situation, or just a busy day with visitors, Ken made the park safer, and ultimately more enjoyable for us all. Using his explosive detection and screening skills, Ken was one of the prime protectors of our nation's ultimate symbols of liberty and freedoms, keeping the Liberty Bell and Independence Hall, and the ideas they embody, safe.
Visitors, coworkers, and the Philadelphia law enforcement community recognized Ken for his law enforcement skills and professional demeanor. Recently Ken was recently awarded the National Liberty Museum's Award of Valor for his accomplishments.
Throughout his career Ken has demonstrated a strong enthusiasm for his work and took his job seriously. His presence and paw prints will be deeply missed at Independence National Historical Park, and his accomplishments will continue to be respected with high honor as an impeccable Bark Ranger.
Condolences and remembrances can be shared via social media using the hashtag #K9KenFranklin, on the park's social media Facebook page (
https://www.facebook.com/IndependenceNHP/
), and on Twitter (
https://twitter.com/INDEPENDENCENHP
) @IndependenceNHP.
Ken Franklin, NPS K-9 Ranger
Appointment Date: May 29, 2013,
End of Watch: November 13, 2019
Last updated: November 14, 2019