News Release
Independence National Historical Park announces new leader of interpretation and education programs
Date:
April 21, 2021
Contact:
Andrew McDougall
, 215-435-4372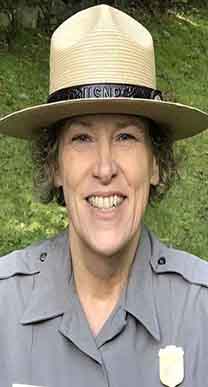 Philadelphia
– Independence National Historical Park announces the appointment of Leslie Obleschuk as the new leader of the park's interpretation and education programs. Previously serving as the park's public affairs officer, Obleschuk will now oversee the park's interpretive programming, interpretive social media content, virtual learning programs, daily operations and supervision of staff in the park's historic buildings.
"I am pleased to announce and welcome Leslie Obleschuk to take the helm for our interpretive and education programs at Independence National Historical Park," said Park Superintendent Cynthia MacLeod. "She has a wealth of exceptional experience in a park service career spanning more than three decades. As we look towards our nation's 250
th
birthday in 2026, she will play a vital role in telling the story of our founding principles, the stories of those who endured and those who expanded the definition of freedom and civil rights." Obleschuk will bring relevance to the story of America - focusing on all those who shaped our nation through civic engagement, from the land's first inhabitants through those living in the 21
st
Century.
Obleschuk started her career at Independence National Historical Park as a seasonal ranger. She most recently served as chief of interpretation and education at Minute Man National Historical Park in Concord, Mass. and as chief of education at Lowell National Historical Park in Lowell, Mass. Her service in the NPS also included assignments at Edgar Allan Poe National Historic Site (Philadelphia), Adams National Historical Park (Quincy, Mass.), Springfield Armory National Historic Site (Springfield, Mass.), John F. Kennedy National Historic Site (Brookline, Mass.), Longfellow House Washington's Headquarters National Historic Site (Cambridge, Mass.), Frederick Law Olmstead National Historic Site (Brookline, Mass.), the NPS Regional Office (Philadelphia), and Valley Forge National Historical Park (Valley Forge, Pa.).She received her bachelor's degree in history and education from West Chester University, West Chester, Pa. and her master's degree in curriculum and instruction from University of Massachusetts, Lowell, Mass. She currently resides in Philadelphia.
www.nps.gov/inde
A unit of the National Park Service, Independence National Historical Park was created by an Act of Congress on June 28, 1948. Accredited by the American Association of Museums, Independence NHP covers almost 54 acres in Philadelphia's Old City, and includes Independence Hall, the Liberty Bell, Congress Hall, Franklin Court, and other historic buildings associated with the founding of the United States. The park is open from 9:00 am daily with the exception of Christmas day. For more information visit the park's website,
http://www.nps.gov/inde
or follow us at
twitter.com/independencenhp
.
Last updated: April 21, 2021