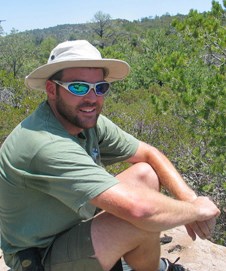 Andy Hubbard, Program Manager
(520) 751-6861 / (520) 429-8147; email
Primary Network Responsibilities: Overall manager of the Sonoran Desert Network program. Budget management, workplan establishment, contribution to scientific activities (protocol development, data analysis, interpretation, and writing).
Active Projects: Climate, Terrestrial Wildlife, Vegetation & Soils
Education and Areas of Expertise
PhD, Rangeland Ecology and Management, Texas A&M University
MS, Renewable Natural Resources, University of Arizona
BS, Watershed Management, University of Arizona
I joined the Sonoran Desert Network in 2001. Prior to that, I was the plant ecologist for the Cape Cod National Seashore prototype I&M program, a prescribed-burn manager for the State of Texas, and a biotech with the U.S. Geological Survey–Water Resource Division, an USDA Agricultural Research Station, and at Saguaro National Park. My research interests include plant–animal interactions, plant ecophysiology with an emphasis on roots, and disturbance ecology. I've been a Wakonse Teaching Fellow since 1999 and was named NPS I&M Program Manager of the Year for 2010.