Climate

Overview
Precipitation and temperature are primary factors that determine an ecosystem's structure and function. Secondary factors include long-term climate patterns, such as the timing, duration, and intensity of extreme weather events (such as frosts and violent downpours), and the variance in seasonal dynamics between and among years.
These drivers greatly influence which plant species occur where, habitat suitability for wildlife, surface and subsurface hydrology, how nutrients are cycled, and the relationships between soil, plants, and water availability. They can also affect how susceptible—or resilient—an ecosystem is to disturbance.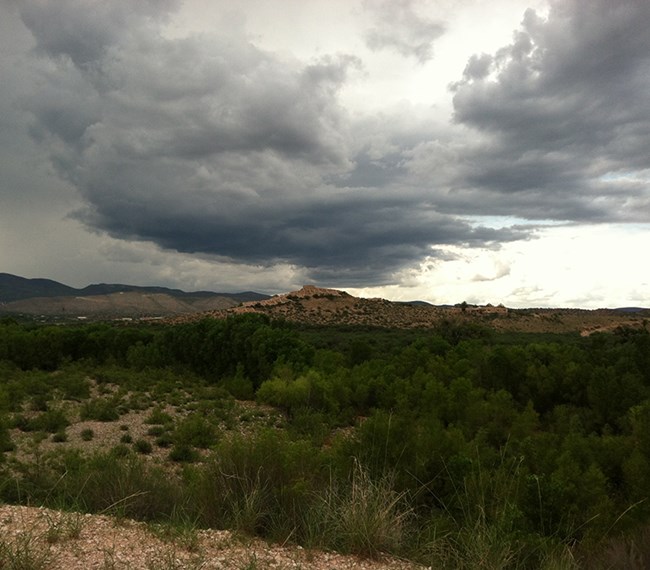 Perhaps no feature defines the Sonoran Desert more than its bimodal precipitation regime. Interspersed between the Mohave and Chihuahuan deserts, the Sonoran Desert receives the frequent low-intensity winter (December/January) rains of the former, as well as the violent summer (July/August) "monsoon" thunderstorms of the latter. These distinct rainy seasons support a broad array of warm- and cool-season flora and fauna, and are the primary cause of the amazing species and lifeform diversity of the Sonoran Desert. Winter precipitation occurs when a low-pressure trough develops over the western United States, pushing the prevailing Pacific storm tracks south over the Sonoran Desert.
Annual precipitation in the Sonoran Desert averages from 76 to 500 mm (3–20 in) depending on location, with substantial inter- and intra-annual variability in timing and quantity. Precipitation is typically much higher with elevation due to the orographic effects of the sky islands, with a sizable proportion occurring as snowfall.
The Sonoran is a hot desert. Summer air temperatures routinely exceed 40°C (104°F), and often reach 48°C (118°F). These high near-surface temperatures interact with cool, moist air in the atmosphere to produce the violent thunderstorms of the summer monsoons. As moisture on the soil surface and near-surface air evaporate following a storm, temperatures may drop 10°C (50°F) or more, often within a matter of minutes. Winter temperatures are mild, with valley bottoms typically free of frost, while the surrounding mountains may have dense snow cover at high elevations and north and east aspects. During any season, diurnal swings of 15°C (59°F) or more are common, as the dry atmosphere and relatively low vegetation cover facilitate re-radiation of daytime heat into the atmosphere overnight.
In the Sonoran Desert and Apache Highlands ecoregions, vast differences in aspect and topography make for a spatially variable climate. Understanding broad-scale weather and climate conditions is vital to park managers. Among other uses, it can help guide activities related to fire management and habitat protection; suggest the likelihood of exotic plant invasion, the availability of surface water, and the potential occurrence of plant die-offs and recruitment events; and indicate the potential success of disturbed lands restoration actions. It can also help the Sonoran Desert Network to understand changes in other vital signs.
Visit our keyboard shortcuts docs for details
Duration:

3 seconds
A rare snowstorm blankets the Desert Research Learning Center in February 2019. Snow is not uncommon at higher elevations in the Sonoran Desert and Apache Highlands. In the valleys, it is rare.
Methods and Measurements
To obtain information on climate patterns, the network relies on The Climate Analyzer, an interactive website that allows users to create custom graphs and tables from historical and current weather-station data. For Sonoran Desert Network parks, users of The Climate Analyzer can investigate current and historical data related to the following parameters:
air temperature
precipitation
potential evapotranspiration
reconnaissance drought index
discharge
water temperature
conductivity
The Climate Analyzer uses climate stations from throughout the region. To address data gaps, the Sonoran Desert Network also augments existing weather station networks with automated, real-time weather stations at selected locations. All network parks have at least one climate station used by The Climate Analyzer.
For more information, contact Kara Raymond, Hydrologist, Southern Arizona Office.
Legacy briefs
for climate and water monitoring are also available.
Last updated: November 15, 2022