Inventory & Monitoring at Devils Postpile National Monument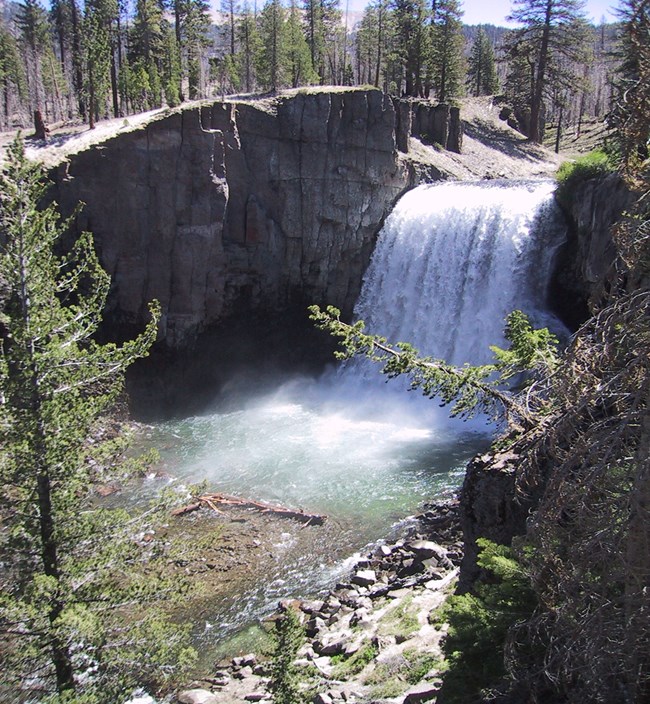 Devils Postpile National Monument preserves and protects the glacially exposed basalt columns of the Devils Postpile, the 101-foot high Rainbow Falls, and the wilderness landscape of the Upper Middle Fork San Joaquin River. The monument's 800 acres range from 7200 to nearly 8400 feet and include geologic formations, wetland and riparian areas, and mixed conifer forests. Approximately 85% of the monument is federally designated wilderness. It is surrounded by the Inyo National Forest and attached to one of the largest contiguous wilderness complexes in the lower 48 states.
Though small in size, the monument protects diverse habitats, including forests, chaparral, riparian corridors, meadows, and ponds. In 2001, a vascular plant survey documented 380 species, including three species of concern and eight non-native plant species. Because of the monument's proximity to a low Sierra Nevada pass, species of both the east and west slopes are present. The variety of habitats at the monument supports a diversity of wildlife.
Inventory Highlights
Resource inventories are extensive, point-in-time surveys of plants, animals, or abiotic resources such as water, soils, and geology. The Sierra Nevada Network conducted biological inventories to help parks fill in information gaps on special status species (rare or non-native) and other plants and animals for which there was limited recent information available.
Inventory highlights for Devils Postpile:
Plant inventories increased the number of documented plant taxa in the monument by 125%, from 169 to 380 species. Information about bat diversity and distribution increased.
Ten species of bats (all new records for the monument) were documented.
Monitored Here
At Devils Postpile, the Sierra Nevada Network works with monument staff and other partners to monitor:
Last updated: July 10, 2018