Nature & Science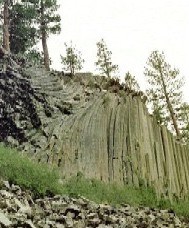 Devils Postpile National Monument is a small but rich environment. Located on the western slope of the Sierra Nevada range between 7,200 and 8,200 feet (2,200 to 2,500 meters), the Monument contains an interesting assemblage of flora, fauna and geology.
Devils Postpile National Monument's
landscape is a reflection of fire and ice. The eruption and uniform cooling of basalt lava created an impressive wall of columns. Later a glacial event exposed the columns and polished smooth the top of this formation enhancing the pattern of hexagons that are a result of the mineral composition of the lava. Several other lava flows have occurred in the Monument and surrounding area. Volcanic activity lives on today at the Monument's soda spring.
More on Geology...
The flora and fauna at Devils Postpile are typical of the Sierra Nevada. Visitors can see animals and plants such as black bear, eagles, pine and fir trees, as well as many wildflowers.
Though technically a west slope location, close proximity to the eastern slope of the Sierra and a low pass creates circumstances that allow species from both sides to mix. The unique geography of the area fosters relatively high species diversity concentrated in a small area. Soda Springs Meadow, near the Ranger Station, harbors an abundance of songbirds and wildflowers. The talus at the base of Devils Postpile is home to many squirrels and chipmunks and the pine martens which hunt them. Another asset in terms of biodiversity is the burned area near Rainbow Falls, which is habitat for many plants and animals that will not live in heavily forested areas. Measuring and monitoring biodiversity in America's parks is important to the National Park Service. Devils Postpile is part of the Sierra Nevada Network for Inventory and Monitoring, which keeps track of all the species known to live in or migrate through the Monument.


Last updated: July 11, 2019