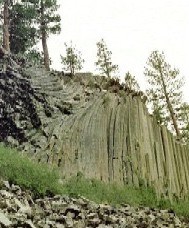 Devils Postpile National Monument is a small but rich environment. Located on the western slope of the Sierra Nevada range between 7,200 and 8,200 feet (2,200 to 2,500 meters), the Monument contains an interesting assemblage of flora, fauna and geology.
Devils Postpile National Monument's
landscape is a reflection of fire and ice. The eruption and uniform cooling of basalt lava created an impressive wall of columns. Later a glacial event exposed the columns and polished smooth the top of this formation enhancing the pattern of hexagons that are a result of the mineral composition of the lava. Several other lava flows have occurred in the Monument and surrounding area. Volcanic activity lives on today at the Monument's soda spring.
More on Geology...