Inventory & Monitoring at Assateague Island National Seashore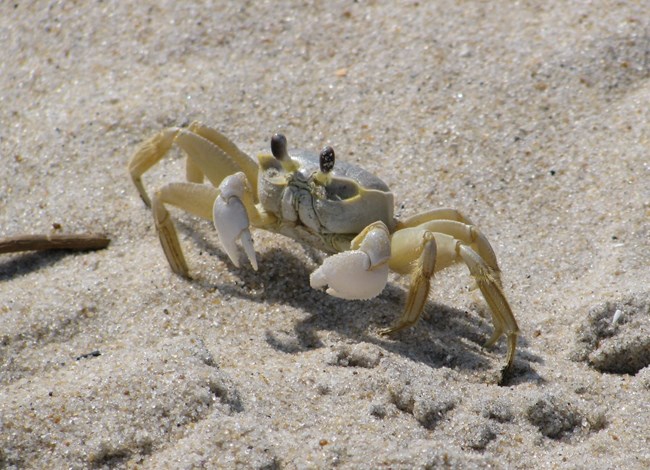 The park's natural resources include a diverse assemblage of aquatic and terrestrial wildlife, including the free-roaming feral horses for which Assateague is famous. The vegetation communities, geological features and physical processes reflect the complexity of the land/sea interface along the Mid-Atlantic coast. The indigenous plant communities at ASIS reflect the adaptive extremes necessary for survival on a barrier island, where exposure to salt spray, lack of freshwater, and shifting sands create a harsh and dynamic environment.

Changing patterns in land use within the watershed of the coastal lagoons of ASIS threatens park water quality and biotic systems. Although park waters are considered to be in "good" condition at present, nearby estuaries with more extensive development are significantly degraded, primarily due to nutrient enrichment from anthropogenic nutrient inputs. The potential for similar degradation of park waters is considered high, with increased growth rates of land development. The ability to document changing estuarine conditions, including trends in seagrass, nekton, salt marsh vegetation, and benthic invertebrate community composition, is considered crucial towards influencing and mitigating local/regional development.

Since 1935, the federal navigation channel at Ocean City, MD has disrupted the natural sediment supply to Assateague Island, resulting in wholesale physical and biological changes. A comprehensive mitigation program has been developed involving both short term (one-time beach nourishment) and long term components (sediment bypassing). Implementation and management of these programs will require the ability tocontinuously evaluate island conditions, (including changes in the distribution and abundance of rare species), relevant physical processes, and the effects of restoration actions in order to optimize outcomes and ensure maximum compatibility with management objectives.

Portions of ASIS provide suitable habitat for a variety of state and federally listed species, both plants and animals. The known and perceived threats to these species vary in intensity, and include a range of causative factors such as; recreational activities, disruptions to natural coastal processes, and interactions with both native and non-native species. Certain high-profile species such as the piping plover are being actively managed, but others remain poorly understood and are largely ignored. In particular, rare resident plant and insect species, and transient bird species lack appropriate levels of documentation (presence/absence, distribution and abundance), threat mitigation, and assessment.

Non-native plant (especially Phragmites and Asiatic sand sedge) and animal species (feral horses, sika deer, nutria) present on Assateague Island are known to be having a significant impact on several of the primary vegetation communities occurring within the park. Documented effects include reduced health and reproductive capacity of certain key plant species, changes in species abundance and community composition, and loss of faunal biodiversity. The development of long-term management programs to mitigate the impacts of these species requires a variety of basic life history, distribution, and relative abundance data to guide decision-making and program implementation/evaluation. The following is a list of current park management issues faced at the park.
Estuarine nutient enrichment and its effect on the distribution and abundance of submerged aquatic vegetation (SAV's), such as seagrass.
Altered coastal processes and its effects on early successional, disturbance-driven beach habitat, and associated plant/animals.
Exotic species and their impacts on native species and rare/sensitive habitats.
Recreational activities and their impacts on migratory shorebirds using ocean beach as "stopover habitat" as well as the ocean nearshore benthic macroinvertebrate community.
Adjacent land use changes and associated water quality issues.

Salt Marsh Vegetation and Nekton
Vegetation Classification
Last updated: January 7, 2021