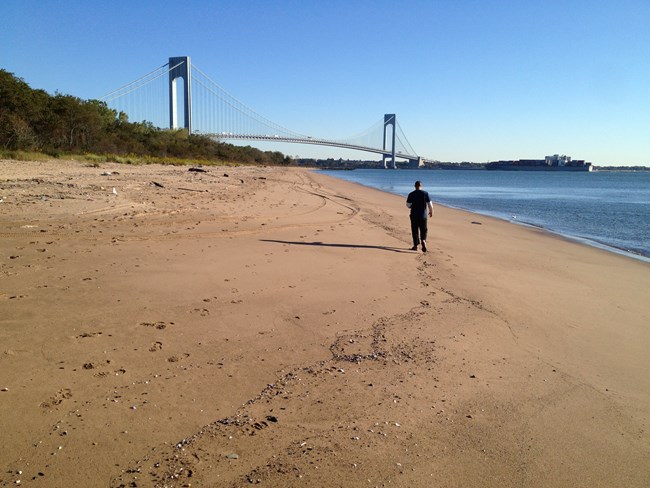 Importance / Issues
A major issue in all coastal parks is the magnitude and rate of shoreline change. This condition affects the quality of the natural and cultural resources as well as the general infrastructure present in the coastal parks. It is among the most basic concerns of being at the shore. It is estimated that at least 70% of the world's sandy shorelines are eroding, and the percentage is expected to increase because of sea-level rise and sediment manipulation by human actions.

The problem of land loss/gain and landscape alteration at the marine edge is fundamental to many issues facing coastal park resource stewards. A primary goal of the NCBN coastal geomorphological program is to provide information to park managers and to improve the understanding of the dynamic nature of coastlines, including the temporal and spatial patterns of change in NCBN parks, for use in management decisions and in describing the condition of marine and coastal areas.
Monitoring Objectives
Determine long-term trends in the seasonal and annual variability in shoreline position for the ocean shoreline in Network parks.
Characterize and improve understanding of how long term trends in marine hydrodynamic processes (tide, current and wave), offshore topography (sediment quality, bathymetry and location of migrating shoals and bodies) and the location of man-made structures influence NCBN park beach/dune systems.
Parks Monitored
Assateague Island National Seashore (ASIS)
Cape Cod National Seashore (CACO)
Fire Island National Seashore (FIIS)
Gateway National Recreation Area (GATE)
George Washington Birthplace National Monument (GEWA)
Sagamore Hill National Historic Site (SAHI)
Approach
GPS surveys are conducted along the entire shoreline of each park twice a year (spring and fall) in order to accurately map the position of the high-tide swash line. Surveys along the ocean shoreline are accomplished by driving a four-wheel all terrain vehicle (ATV) at a relatively constant speed with the GPS receiver configured to record positions at a very short interval (typically one position per second or roughly every 5 meters).

The USGS Digital Shoreline Analysis System (DSAS) tool is then used to transform the surveyed shorelines into a data matrix of distance measurements from which temporal and spatial changes are determined. Creation of the data matrix provides the basis to characterize the dimensional changes of the entire park's shoreline as well as subsets of the park (smaller areas of special concern).