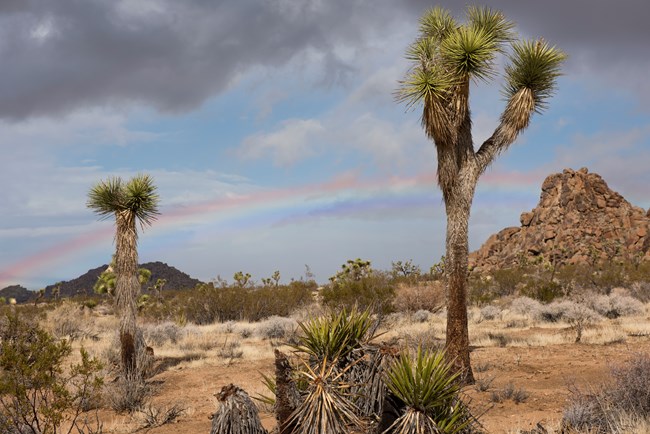 Overview
In the semi-arid desert landscape where temperatures are extreme and water is scarce, the physical and biological components of ecosystems are unique and especially sensitive to climatic variability. Monitoring climate is important for understanding changes we detect in other vital signs (such as vegetation productivity or composition), and for guiding us in the protection of sensitive habitats and endangered species.
Many studies of future climate conditions in the southwestern U.S. predict higher temperatures and less precipitation in all seasons. In the Mojave Desert Network parks, decreased precipitation would intensify the scarcity of water resources, change hydrologic processes, reduce water recharge to groundwater reservoirs, reduce soil moisture, increase wildfire ignition frequency and fire intensity, and cause an overall decline in species diversity.

Predicted warmer overall temperatures in the spring would cause earlier melting of high-elevation snowpack, resulting in greater flooding over shorter periods in the spring and less meltwater runoff at the end of the summer, especially at Great Basin National Park. In addition, warmer temperatures cause extreme weather conditions, worsen air quality, and result in vegetation and human health risks. Monitoring weather conditions, in combination with other vital signs, is one way to detect, evaluate, and anticipate changes observed in the Network park ecosystems.