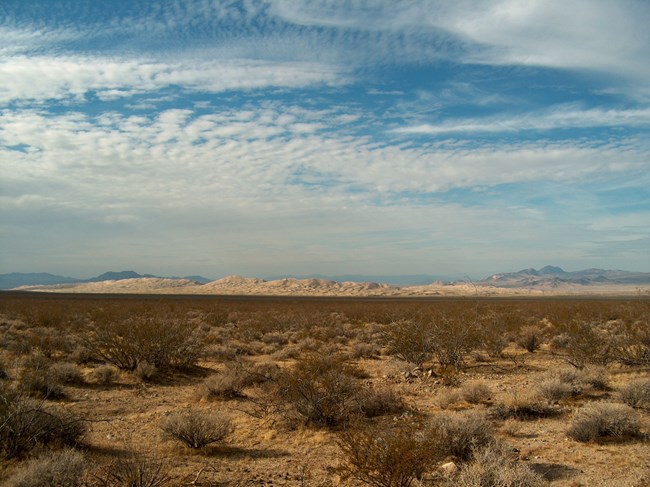 Mojave National Preserve was established in 1994 as part of the California Desert Protection Act. The park encompasses 1.6 million acres, making it the third-largest unit of the national park system in the contiguous United States.

Located in the southern California and bordered to the north and south by major interstate highways, I-15 and I-40, the preserve is an expanse of desert lands from three of the four major North American deserts: the Great Basin, Sonoran, and Mojave. The preserve has vast natural and cultural resources that warrant monitoring and protection.
The Mojave Desert Network provides natural resource inventory and monitoring information to help parks make effective, science-based management decisions. Inventories have been completed for mammals, fish, birds, vascular plants, and reptiles & amphibians (see species lists further down the page). Maps and reports detailing Mojave Preserve's vegetation, geologic and soil resources are also complete.

Our Selected Large Springs monitoring focuses on MC Spring, an iconic water source due to the endangered Mohave tui chub (Siphateles bicolor mohavensis) that inhabits it. The network also published a report on the use of historic photographs to reconstruct the water level at MC Spring from 1990 to 2015.
Monitoring at Mojave National Preserve
Ongoing Monitoring Efforts
Integrated Uplands vegetation and soils monitoring of the mixed creosote community
Selected Large Springs monitoring of water quality and availability at MC Spring
Desert Springs monitoring of water quality and availability at nearly 100 smaller seeps and springs
Coming Soon (additional monitoring currently in development)
Bat population monitoring using acoustic and capture surveys
Spring Vegetation monitoring at MC Spring
Invasive & Exotic Plants

Reports & Publications
Inventories & Assessments present baseline data collected during the first phase of the development of the Mojave Desert Inventory & Monitoring Network in order to have comparison with the long-term monitoring data currently being collected. Monitoring protocols describe why and how we collect, manage, analyze, and report monitoring data about the Network's Vital Signs. The protocols consist of a narrative and associated set of standard operating procedures (SOPs). Monitoring Reports summarize data and findings from our Vital Signs monitoring activities.