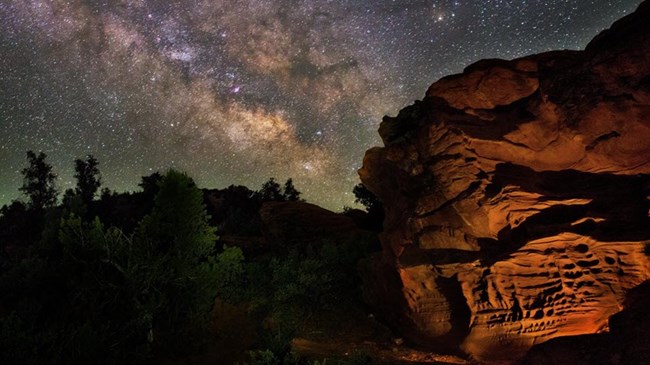 Grand Canyon-Parashant National Monument was established in 2000 and is managed jointly by the Bureau of Land Management and the National Park Service.

Located in the northwest corner of Arizona where the Mojave Desert and Colorado Plateau ecoregions meet, the park has expansive geological, elevational, and ecological diversity. Parashant spans more than one million acres and is one of the most rugged and remote landscapes remaining in the southwestern United States. The monument provides iconic western vistas in a setting known for its solitude, silence, night skies, and wilderness.
The Mojave Desert Network provides natural resource inventory and monitoring information to help parks make effective, science-based management decisions. Inventories have been completed for mammals, fish, birds, vascular plants, and reptiles & amphibians (see species lists further down the page). Maps and reports detailing Parashant's vegetation, soils, and geology resources are also complete.
Monitoring at Grand Canyon-Parashant National Monument
Ongoing Monitoring Efforts
Integrated Uplands vegetation and soils monitoring of the sagebrush community
Selected Large Springs monitoring of water quality and availability at Pakoon Spring and Tassi Spring
Desert Springs monitoring of water quality and availability at nearly 50 smaller seeps and springs
Coming Soon (additional monitoring currently in development)
Bat population monitoring using acoustic and capture surveys
Spring Vegetation monitoring at Pakoon Spring and Tassi Spring
Invasive & Exotic Plants