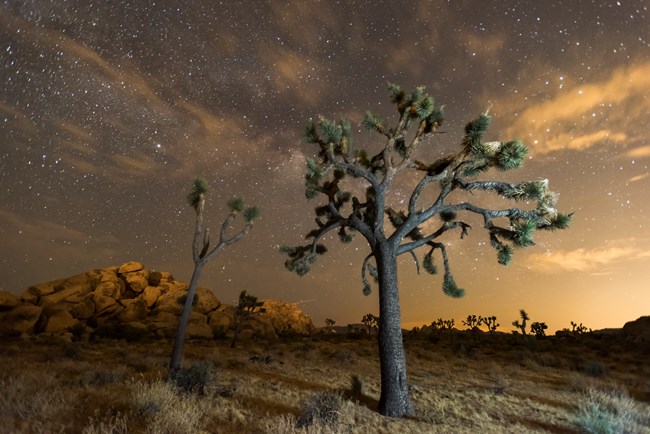 Joshua Tree National Park was first established as a National Monument in 1936 and then as a national park in 1994. Joshua Tree is the southern-most park in the Mojave Desert Network, lying at the transition between Mojave and Sonoran deserts.

Providing major habitat for its namesake, the park supports extensive stands of Joshua trees, prickly pear cacti, and other unique and diverse plants and animals. Fault lines running through igneous and metamorphic rocks force water to the surface at numberous locations across the park. Five of North America's 158 desert fan palm oases are found at these locations. Many threatened or vulnerable species call the land of Joshua Tree National Park home, including the desert tortoise, desert bighorn sheep, Mojave fringe-toed lizard, and sensitive bat species.
The Mojave Desert Network provides natural resource inventory and monitoring information to help parks make effective, science-based management decisions. Inventories have been completed for mammals, fish, birds, vascular plants, and reptiles & amphibians (see species lists further down the page). Maps and Reports detailing Joshua Tree's vegetation, soils, and geology resources are also complete.
Monitoring at Joshua Tree National Park
Ongoing Monitoring Efforts
Integrated Uplands vegetation and soils monitoring of the Joshua Tree woodland community
Selected Large Springs monitoring of water quality & availability at Fortynine Palms Oasis and Smith Water Canyon Springs
Desert Springs monitoring of water quality and availability at 48 smaller seeps and springs
Coming Soon (additional monitoring currently in development)
Bat population monitoring using acoustic and capture surveys
Spring Vegetation monitoring at Fortynine Palms Oasis and Smith Water Canyon Springs
Invasive & Exotic Plants