Inventory and Monitoring at Shenandoah National Park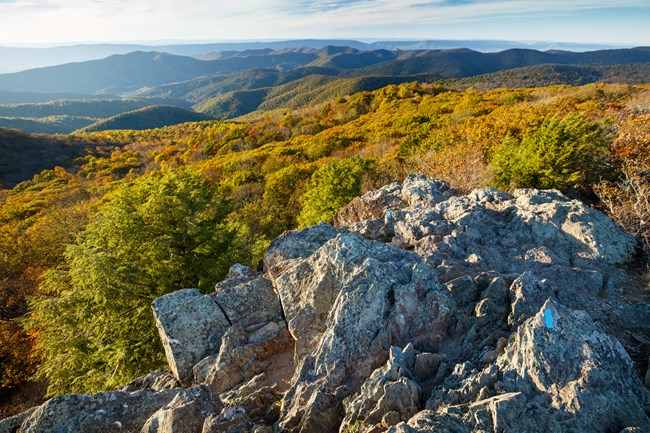 Environmental Setting
Shenandoah National Park lies astride the Blue Ridge, which forms the eastern rampart of the Appalachian Mountains between Pennsylvania and Georgia, covering a total of 775 km2 (300 miles2). The park rises above the Virginia Piedmont to its east and the Shenandoah Valley to its west, with two of its peaks exceeding 1,210 m (4,000 feet) above sea level. The range of elevation, slopes and aspects, rocks and soils, precipitation, and latitude create a variety of habitats. Most of Shenandoah's landscape is forested, with hardwoods dominating the park. Remnants of boreal forests occur at higher elevations.
The park is over 95% forested and is home to over 200 bird, 50 mammal, 50 amphibian and reptile, and 30 fish species. Included in these totals are several federally endangered and state threatened species of animals and plants. There are also globally rare plant communities and several state rare plant species in the park.
Key Resources and Issues
The park currently faces numerous threats to its natural and cultural resources. Shenandoah's location near major industrial and urban areas has adversely impacted the air quality, visibility, stream-water chemistry, soils, native fish and vegetation of the park. Additional stresses from global warming and the spread of invasive exotic species that impact biological diversity and degrade important park habitats.
In addition to the natural resource management activities being performed by park staff, the Shenandoah Natural Resource Office has instituted several monitoring protocols as part of the Mid-Atlantic Network Inventory and Monitoring Program to monitor the status and trends of natural resources at the park.
Last updated: November 25, 2019