Inventory and Monitoring at Gulf Islands National Seashore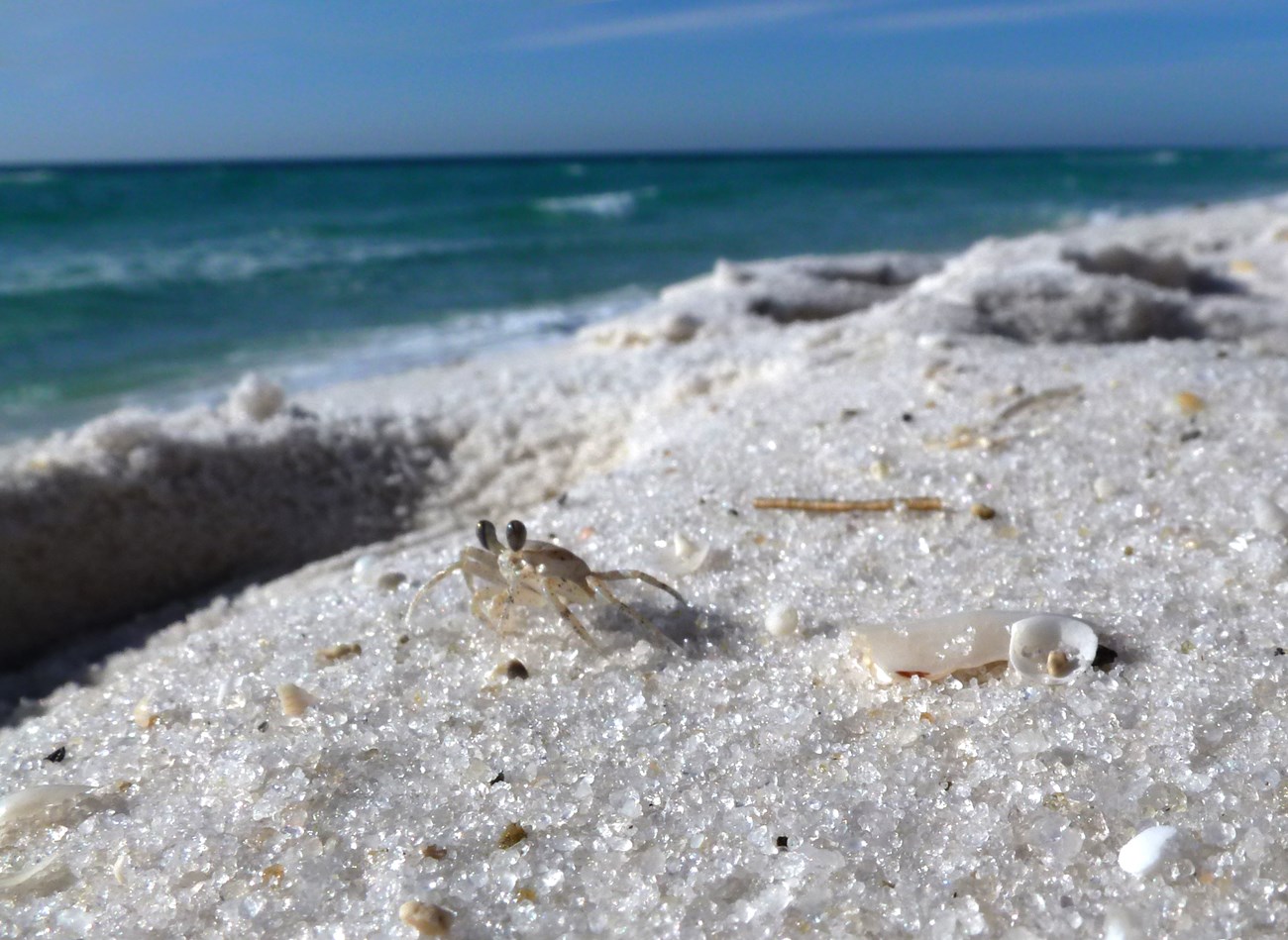 Overview
Gulf Islands National Seashore consists of several units in Florida and Mississippi. The Mississippi section (GUIS-MS) has barrier islands and a small mainland unit, whereas the Florida section has two mainland areas and portions of two islands. For both sections, the authorized boundary includes not only the islands themselves, but also portions of the Gulf of Mexico and nearby bays. The result is that roughly 80% of the park is submerged land, which increases the importance of hydrology and water-related issues relative to most parks.

In Mississippi, the park consists of Davis Bayou on the mainland and several islands off-shore. From west to east, the islands are Cat Island (portion of), West Ship Island, East Ship Island, Horn Island, and Petit Bois Island. In 1969, Ship Island became separated into two parts by Hurricane Camille, with the pass between them called "Camille Cut". Horn Island is the largest of the islands at roughly 3,650 acres (1,477 hectares), followed by Petit Bois Island at 1,466 acres (593 hectares), West Ship at 555 acres (225 hectares), and East Ship at 362 acres (146 hectares). Access to the three uninhabited islands is limited to private boats and one passenger ferry between Gulfport, Mississippi, and West Ship Island. Davis Bayou is the only mainland area in the GUIS-MS park section.

The Florida section of the park consists of portions of Santa Rosa Island and Perdido Key as well as two small mainland areas. The larger of the two mainland units is the Naval Live Oaks Area, which is on the peninsula with Gulf Breeze, forming part of the eastern mouth of Pensacola Bay. The other mainland area is Fort Barrancas, accessible through the Pensacola Airforce Station. On Santa Rosa Island, there are three park units: Fort Pickens on the west, Santa Rosa Area, and Okaloosa Area to the east. Unlike GUIS-MS, all areas of GUIS-FL, including the islands, are accessible to vehicles. Portions of both Santa Rosa Island and Perdido Key are outside park boundaries and subject to human development.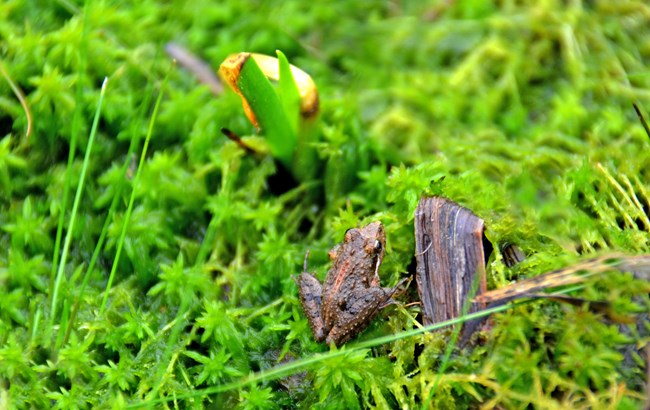 Many of the park's management issues are related to mitigating disturbance to natural resources, such as human use, beach nourishment, nearby development and storm impacts. Of these, hurricanes can have particularly devastating effects on park structures and facilities, as well as biological communities. They also cause rapid changes in shoreline morphology through erosion and overwash of the islands. The populated areas nearby also affect park ecosystems by decreasing water quality and altering hydrology (e.g., jetties and navigation channels), which can prevent the transport of sediment that is needed to replenish park landscapes between storms. To combat erosion, the beaches of Gulf Islands NS have been regularly nourished with sand, which generally comes from the dredging of navigation channels. Although these nourishment projects are beneficial for the reduction of erosion, they may alter rates of revegetation and harm macroinvertebrates.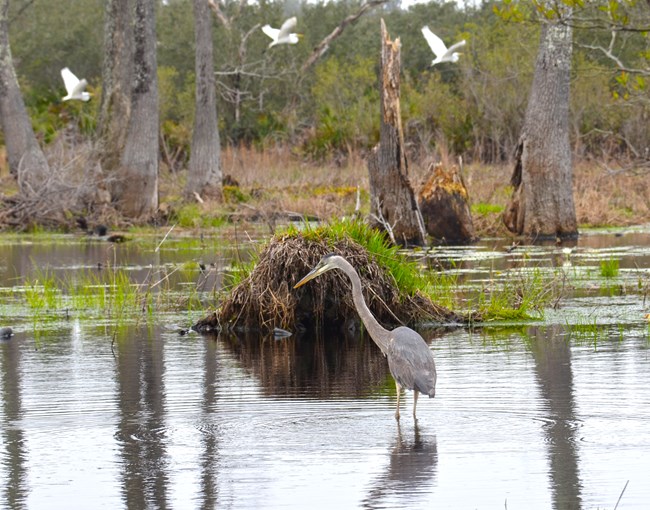 Ecosystems in Gulf Islands NS
With both barrier island and mainland units in two states, Gulf Islands NS encompasses more ecosystems than any other Gulf Coast Network park. The major ecosystems present are
The barrier island units and their surrounding waters are key park attractions, home to several vegetation communities, and used by both marine and terrestrial wildlife. The mainland units habor some of the same vegetation as the islands, but have several unique habitats as well. On mainland Florida, the Naval Live Oaks Area includes a small section of upland forest of oak and pine adjacent to Brown's pond. There are also a few other small ponds that can support freshwater aquatic communities, although these ponds may disappear over the drier winter and spring months. More common in the Naval Live Oaks Area are drought-tolerant oak shrubland/scrubland and mesic flatwoods or pine savannah on acid soils. The pine savannahs of this unit have longleaf pine (Pinus palustris) and/or slash pine (Pinus elliottii) over saw palmetto (Serenoa repens), yaupon (Ilex vomitoria), fetterbush lyonia (Lyonia lucida), or inkberry (Ilex glabra). Wax myrtle (Myrica cerifera) may also be present, particularly in its wetter sections. In clearings on the sandy soil, it is possible to find active gopher tortoise burrows, in addition to several other reptile species.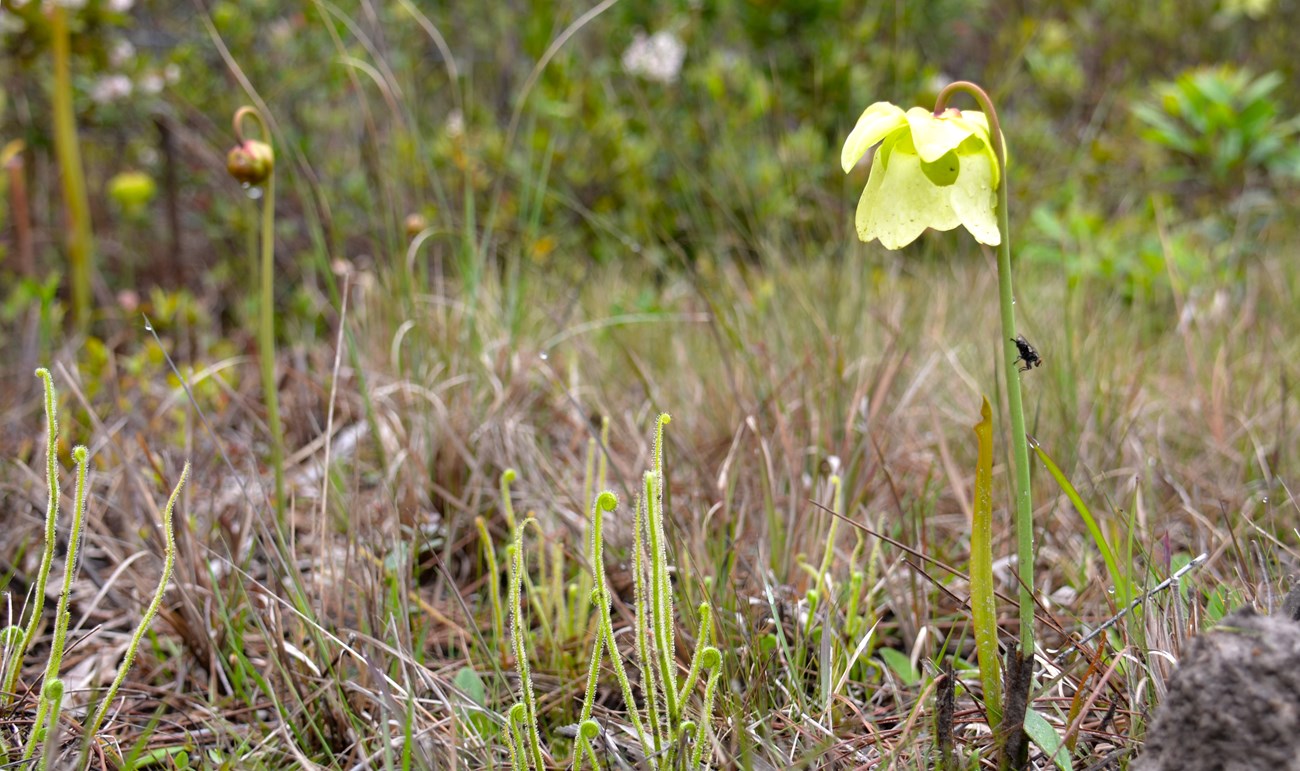 The only mainland unit in Mississippi, Davis Bayou, consists primarily of upland forests and forested wetlands, including swamps, baygalls and bottomland forests subject to occasional flooding. The most frequent hardwood species in the upland forest are pignut hickory (Carya glabra), southern red oak (Quercus falcata), sweetgum (Liquidambar styraciflua) and water oak (Quercus nigra), and the most common pine is loblolly (Pinus taeda). Davis Bayou also has small sections of wet pine savannah and maritime forest/flatwoods, as well as a tidal marsh. The water in Davis Bayou is brackish, but the bayous that run into it, Stark, Halstead and an unnamed bayou, create several freshwater aquatic ecosystems.

On the barrier islands there are beaches and dunes, tidal marsh, scrublands, flatwoods, and relic dunes. Offshore into the gulf, there are seagrass beds and other marine systems. The water bodies surrounding GUIS-FL include Santa Rosa Sound, Big Lagoon, Pensacola Bay, Choctawhatchee Bay, and the Gulf of Mexico. The barrier islands in Mississippi are surrounded by the Mississippi Sound and the Gulf of Mexico; they are offshore by about 10-20 kilometers (6.2-12.4 miles).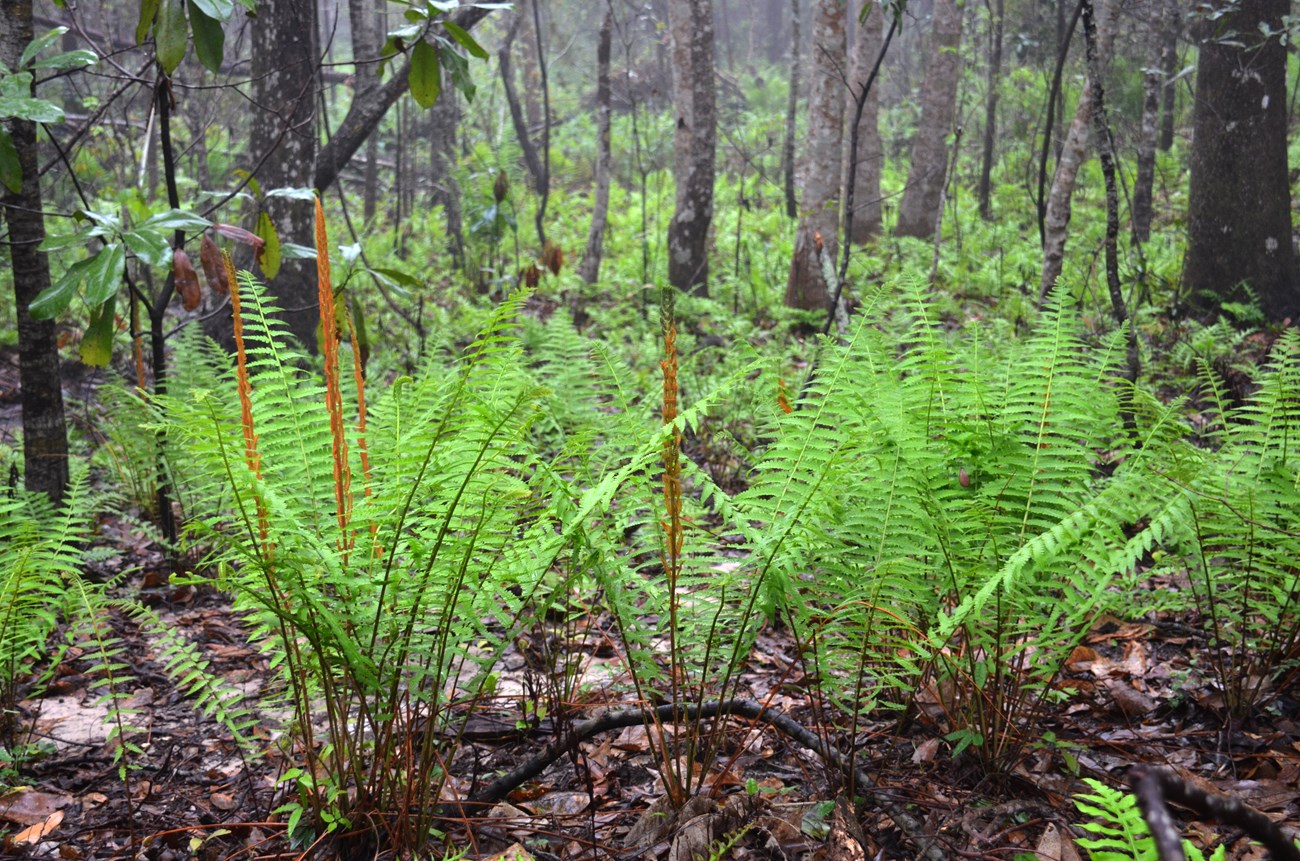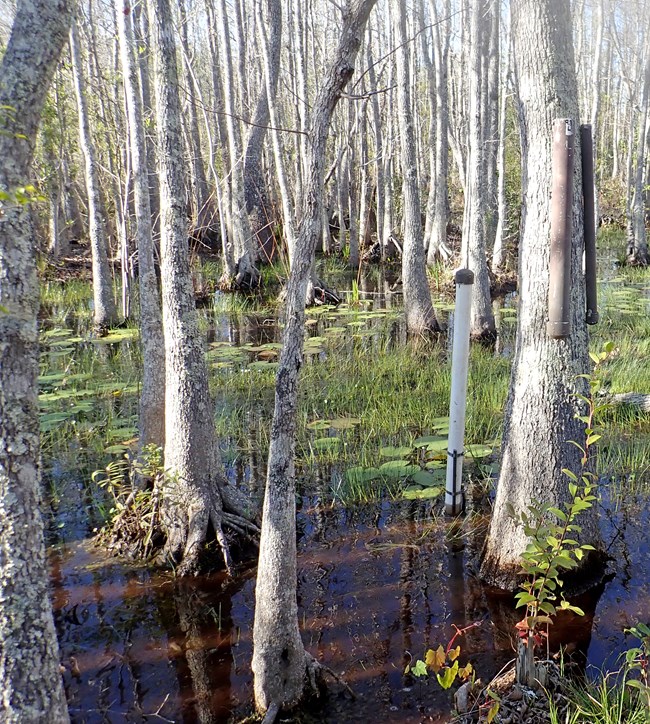 Vital Signs Monitored at Gulf Islands NS
The Gulf Coast Network monitors six indicators of ecological health—called vital signs — at this park. They are: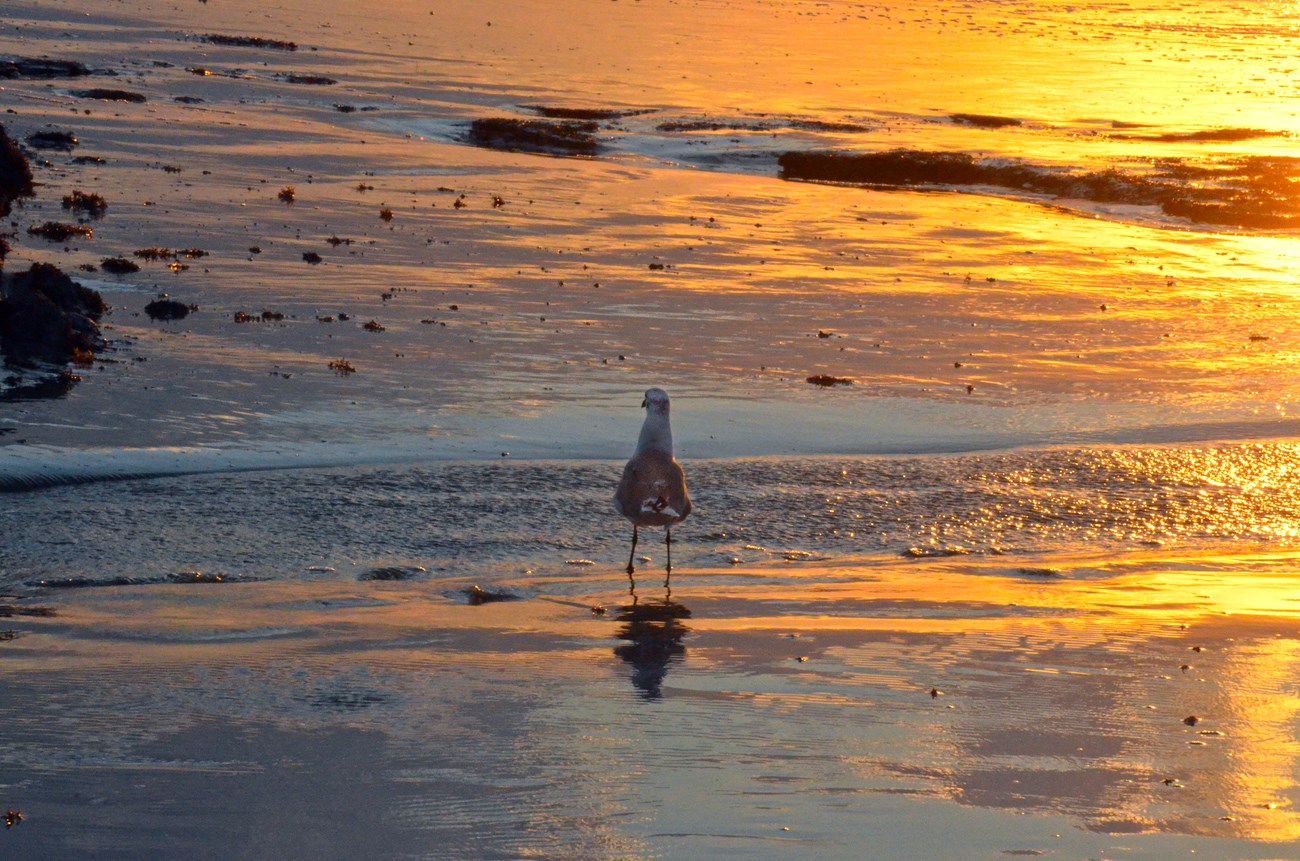 Last updated: October 21, 2021