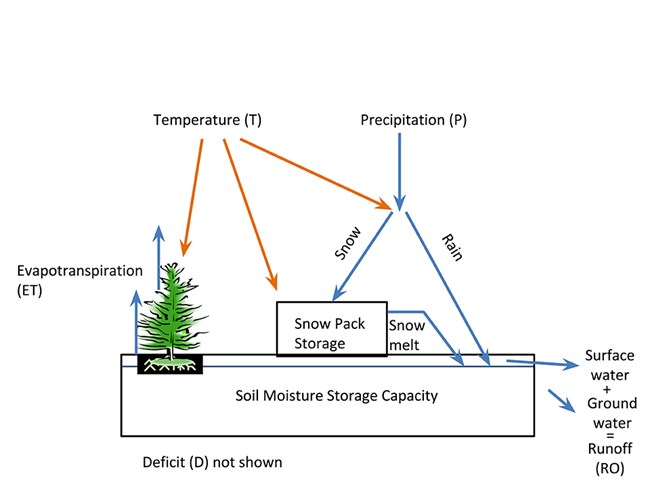 Plants and animals are adapted to both the short-term variability of weather and long-term climate conditions. However, if extreme weather or changes in climate exceed their ability to cope, they will move, suffer, or perish. Both weather and climate shape ecological processes and the distribution of plants and animals across the landscape. For example, extreme weather in the form of droughts or floods affects wildfires, the timing and volume of streamflow, and plant growth. Climate, such as cold and wet conditions on a mountainside, affects which plants and animals live there and how quickly they grow and reproduce. Because climate, weather, and natural resource vital signs are all intricately linked, we study them simultaneously. Understanding how park vital signs responded in the past provides clues to how they may respond in the future.

We track climate using weather station data from network parks. We also calculate water balance from temperature and precipitation using a model that is like a bank account for water. It tracks precipitation input, storage in the soil, and outflow via runoff and evapotranspiration. Water can be stored temporarily as snow that then melts to supply wetlands, streams, and soil moisture for plants during dry spells. Real-time weather and water balance conditions, along with historical summaries, are reported through an interactive website, www.climateanalyzer.org. By tracking the spatial and seasonal patterns in water availability, water use, and water need during drought, we explore relationships between weather, climate, and the natural resource vital signs. For example, we analyze how runoff from snowmelt influences the availability of water in wetlands for amphibians. Similarly, we analyze how drought and mountain pine beetle (Dendroctonus ponderosae) affect whitebark pine (Pinus albicaulis).

We ask:
What is the relationship between weather and climate and park vital signs?

Which climate-related factors have the most effect on park vital signs?

How does water availability change over time across park landscapes in response to climate?
We track:
the location, timing, and total amount of precipitation (rain and snow) at park weather stations

daily air temperature throughout the year at park weather stations

changes in water availability—known as the water balance—over time across park landscapes


Two documents guide our climate monitoring: