Natural Resource Monitoring at Bighorn Canyon National Recreation Area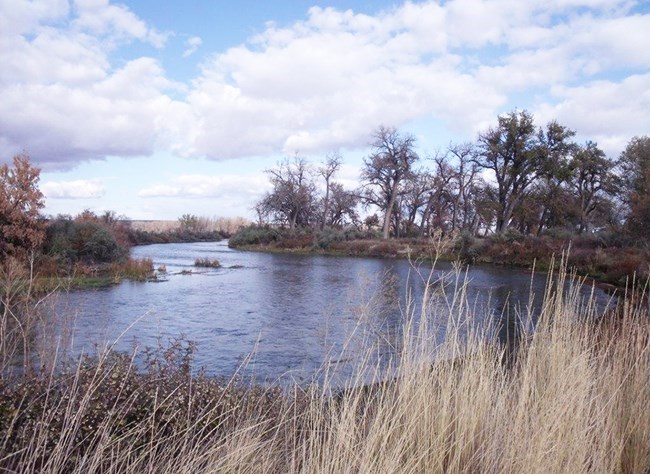 Bighorn Canyon National Recreation Area includes approximately 120,000 acres between the Pryor and Bighorn mountain ranges on the Montana-Wyoming boundary. The park was established in 1966 after construction of the Yellowtail Dam on the Bighorn River. The park's mission is to preserve the area's natural and cultural resources and provide for public enjoyment.

Above the dam, Bighorn Lake extends for approximately 71 miles (114 km) at full pool. Bighorn Canyon itself is approximately 1,000 feet deep at Devil Canyon and 2,500 feet deep on Bull Elk Ridge. The region contains a wealth of paleontological (fossil) resources. Researchers have found Upper Jurassic Period fossils, bones, and fossil tracks in the park. They have also discovered the remains of Pleistocene animals in debris piles at cave entrances. Wildlife diversity in Bighorn Canyon includes bighorn sheep, coyotes, mule deer, snakes, small mammals, mountain lions, bears, and more than 200 bird species. Bighorn Canyon has around 750 plant species and three major vegetation regions in addition to the riparian corridors along Bighorn Lake and streams:

Great Basin—This region falls in the driest, southern portion of the park. Plants are more typical of those found in a desert. This region contains juniper woodland, sagebrush steppe shrubland, and mountain mahogany woodland.
Rocky Mountain—Typically represents higher elevations of the park, with shrublands transitioning to coniferous woodlands.
Great Plains—Mostly falls in the northern, more moist area of the park and contains prairie grasslands.
One-fifth of the 39,000-acre Pryor Mountain Wild Horse Range lies within the park. This range provides habitat for bighorn sheep and approximately 160 wild horses managed by the Bureau of Land Management. The Greater Yellowstone Network's long-term vegetation monitoring will help compare areas inside and outside the Pryor Mountain Wild Horse Range. Our water resource monitoring tracks the condition of valuable surface water sources in this semi-arid landscape. Many additional research studies and resource management activities take place in the park. To learn more, please visit

Bighorn Canyon National Recreation Area home page
Want to know more about the park's plants and animals? Download a species list.
Last updated: September 20, 2018