Horseshoe and Hackberry Groups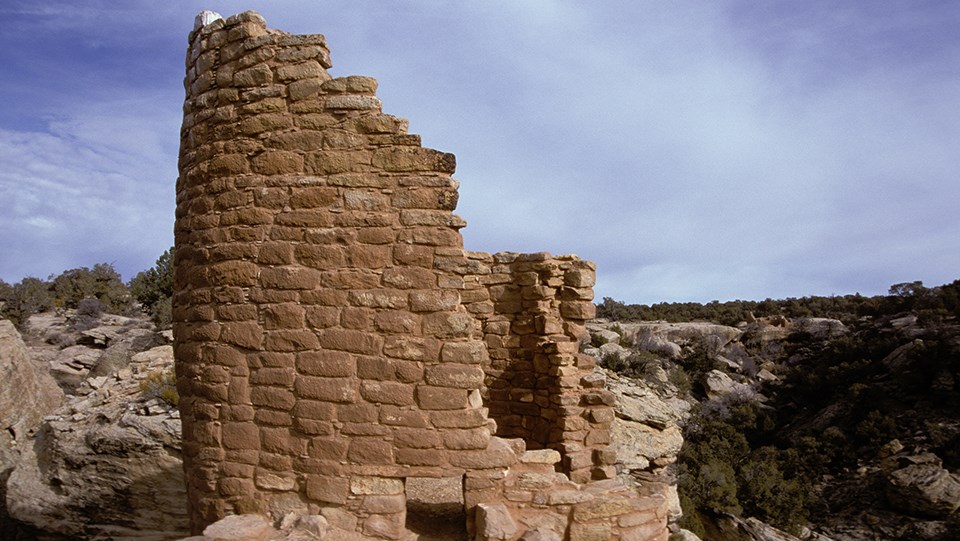 Horseshoe Group
The walking trail to Hackberry Canyon is a one-mile round-trip walk that includes the structures at both Horseshoe and Hackberry. Structures at these sites were built approximately 800 years ago by the ancestors of today's Puebloan people. Today their descendents are among the Pueblos of New Mexico and Arizona.
Horseshoe Tower (shown in photo above) is built on a point that marks the start of the Horseshoe Site. From this tower, inhabitants could see clearly into Horseshoe Canyon. At one time, the tower was walled off from the mesa top, raising questions about the use of such structures for defense.
Further along the Canyon Rim Trail is Horseshoe House, which is composed of four masonry structures that together form a horseshoe shape. From the trail it is easy to see the precisely cut stone-masonry that forms the outside wall of Horseshoe House. Each stone was shaped for a precise fit before being set into place. Clay, sand, and ash, mixed with water from seeps in the canyon below, made the mortar that still holds these walls together. One unresolved question is whether specialized masons built these structures, or if the entire community contributed to their construction.
Hackberry Group
About 500 yards east of the Horseshoe structures is the Hackberry Site. Archeologists speculate that Hackberry canyon may have had one of the largest populations of all the Hovenweep units because of the constant seepage of water in the canyon. As many as 250 to 350 people may have lived here. It is unclear if the residents were related or represented different clans and lineages.
The concentrations of structures at both Horseshoe and Hackberry demonstrate the importance of water to the people who lived here. Large multi-story pueblos and towers, located at canyon heads with seeps and springs, are the defining characteristics of the late Pueblo III time period. In this climate, precipitation comes in the form of winter snows, spring rains, and isolated summer thunderstorms. The intermittent rains of summer were crucial to the survival of crops, and Puebloans responded by constructing water-control features. In washes on the mesa tops, small stone dams were built so that sediment could accumulate and water could soak into the ground, flowing slowly into nearby garden plots.
A 23 year-long drought beginning in 1276 CE (Common Era), possibly combined with warfare, overpopulation, and limited resources, forced the ancestors of today's Pueblo people to leave Hovenweep. By the end of the 1200s, Puebloan communities across southeast Utah and southwest Colorado migrated south, joining the pueblos of the Rio Grande Valley in New Mexico, and the the Hopi in Arizona.


Last updated: May 16, 2018