Cutthroat Castle Group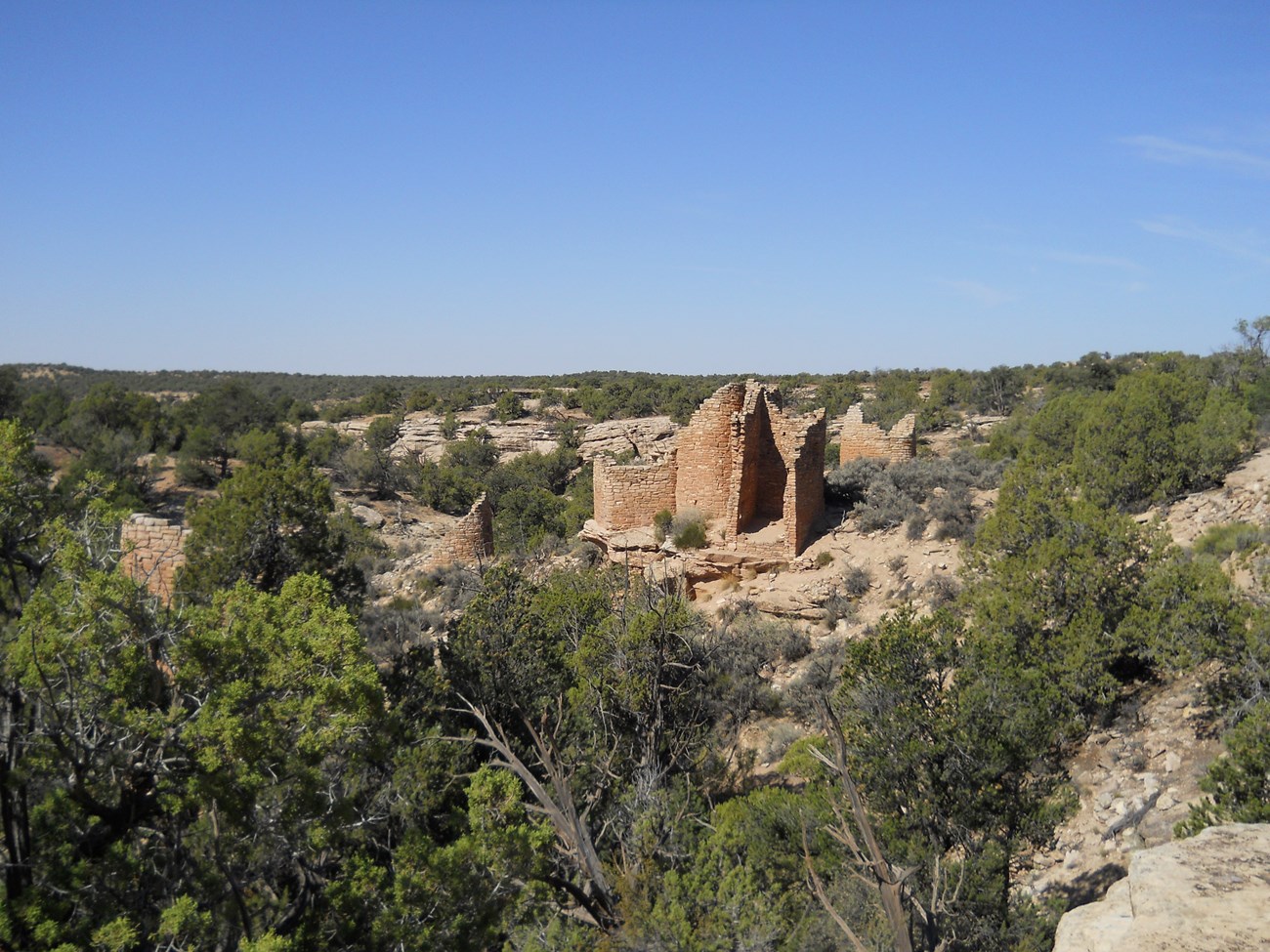 Cutthroat Castle is Hovenweep's most northern outlier site. It is also the only pueblo in Hovenweep built in and along the sides of a canyon's drainage rather than along the canyon rim.
Nestled among the pinyon-juniper forest, and with the canyon walls rising protectively around it, Cutthroat Castle has a more intimate and secluded feel. A primitive trail winds through this beautiful scenery and offers and adventurous hike with sweeping views of the surrounding area.
Visiting Cutthroat Castle
Getting There
Stop at the visitor center for updated road conditions, directions, and a map.
Cutthroat Castle is located down an unimproved BLM road off of County Rd 10, 8.5 miles north of Hovenweep's visitor center and campground. The first mile of the road is gravel; the gravel ends in a parking area for Painted Hand Pueblo (part of Canyons of the Ancients National Monument). We highly encourage you park there and walk to Cutthroat Castle via the upper trailhead. Beyond the gravel parking area the road gets very rough - high clearance is required and four wheel drive strongly recommended. This road becomes impassable when wet.
Hiking is required to see Cutthroat Castle. Visitors can park at the upper Cutthroat Castle trailhead and hike 1.32 miles (roundtrip) to the site. With the appropriate vehicle, visitors may also drive to the lower Cutthroat Castle trailhead and hike 0.14 miles (roundtrip) to the site.
Available Services
There is no restroom, campground, visitor center, trash receptacle, or water available at Cutthroat Castle, so please come prepared. All of these services are available at the Hovenweep Visitor Center, located 8.5 miles south on Rd 10.
What's in a Name?
Archeologist Paul Martin is attributed with naming "Cutthroat Castle" in his 1928 account in Colorado Magazine. He was taken to the area by a local resident and told that the structures he saw were located in "Cutthroat Gulch," from which Martin was inspired.
Features & Archeology
The structures of Cutthroat Castle were built and lived in during the Pueblo I – III periods, about AD 750 – 1300. The main feature is Cutthroat Castle, a three-story, D-shaped building perched on a sandstone boulder. Scattered around the Castle are the standing walls of several towers and dwellings, as well as several possible kiva depressions.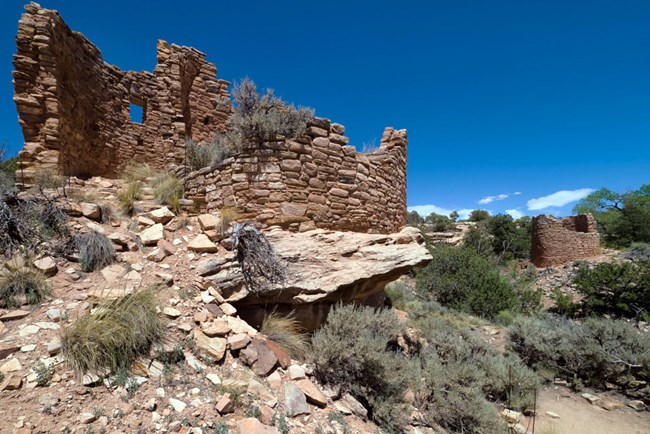 Kivas
This pueblo appears to have a large number of kivas, ancestral Puebloan ceremonial rooms. Ancestral Puebloan kivas are usually built into the earth and are typically round. Several depressions in the earth around Cutthroat Castle may be kivas buried by time. The pueblo also appears to have an above-ground kiva within Cutthroat Castle and surrounded by an outer corridor. We believe people entered the Castle from below, through a split in the boulder.
Life at Cutthroat Castle
The residents of Cutthroat Castle pueblo provided for themselves by hunting game; gathering wild plants, seeds and pinyon nuts; and dry-land farming crops of corn, squash, and beans. Water came from rain, a spring, and a possible intermittent stream along the bottom of the drainage. They probably used check-dams and terracing to collect and divert water. The people of Cutthroat Castle pueblo were probably part of the larger migration that took place around 1300 AD. Most, if not all, people in the Mesa Verde and Upper San Juan region traveled south and found new homes there. Today, the modern Pueblo tribes continue to live to the south.
Part of the Park
The 14-acre unit of Cutthroat Castle was added to Hovenweep's boundary in 1956, through Presidential Proclamation #3132. Hovenweep National Monument was originally established in 1923.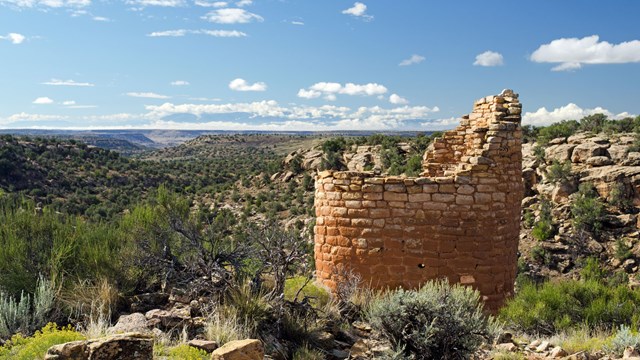 Horseshoe & Hackberry
Horseshoe and Hackberry are smaller outlying units of Hovenweep.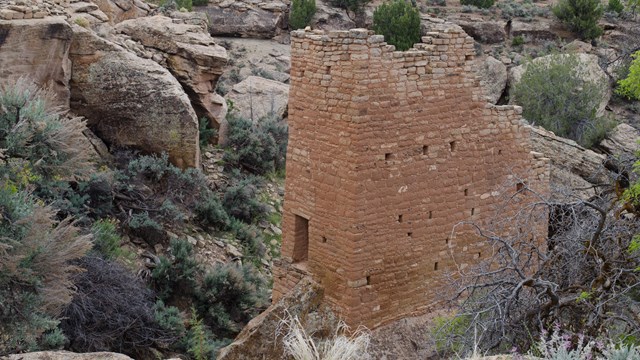 Holly
Holly is Hovenweep's most visited outlying unit.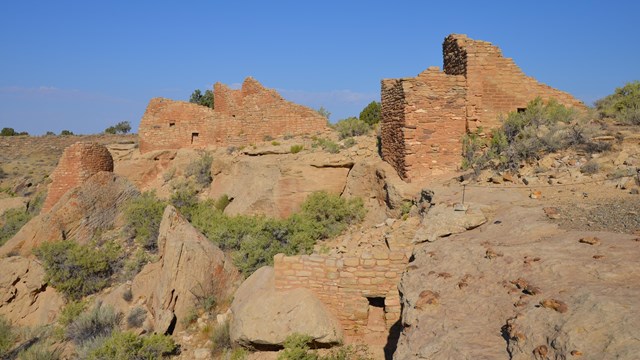 Cajon
Cajon is Hovenweep's southernmost and least visited outlying unit.


Last updated: May 25, 2023