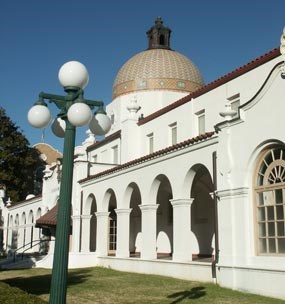 A Brief History of the Quapaw Bathhouse
The Quapaw sits on the site of two previous bathhouses, the Horseshoe and Magnesia. This bathhouse was erected in 1922 and named after an American Indian tribe that once held land in the area. The Quapaw was built in a Spanish Colonial Revival style with a large tile covered dome that is one of the most recognizable features of historic Bathhouse Row.
The bathing industry in Hot Springs declined after World War II largely due to modern medicine. The Quapaw closed its doors in 1968. It would reopen a year later as Health Services, Inc., but close again in 1984.