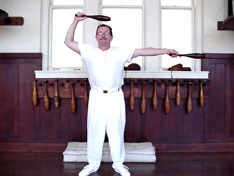 Fun Run with a Ranger--8 a.m.
Meet at the second overlook on West Mountain Drive. Run will be on trails, 3.5 miles or 2.25 miles.
Indian Clubs--1 p.m.
Meet with Ranger Jeff Heitzman on Arlington Lawn to participate in an Indian Club demonstration. It was the fitness rage in the early 1900s.
Hike with a Ranger--2 p.m.
Hike with Ranger Mark Blaeuer on trails on Hot Springs Mountain. Meet on Arlington Lawn. Bring water and consider wearing insect repellant and close-toed shoes
Badminton--noon-2 p.m.
Join in on a game. Net will be set up on Arlington Lawn.
Blood pressure checks (free)
Arlington Lawn Gazebo