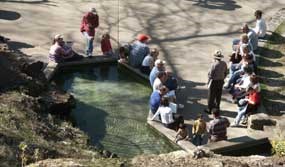 The hot springs in Hot Springs National Park emerge along a fault on the western side of Hot Springs Mountain which is in the downtown area of the city of Hot Springs, Arkansas.
For more information about the hot springs go to In Hot Water and Drinking the Water.
We also recommend Eastern National publication "Hot Springs National Park Geologic Excursion Tour Guide". By using the centerfold map, you can take a self-guiding tour to four areas that highlight the geologic processes in the park: Gulpha Gorge, Hot Springs Mountain, the hot springs discharge area downtown, and West Mountain. It retails for $2.50. For purchase information, call the store manager at 501-620-6740.