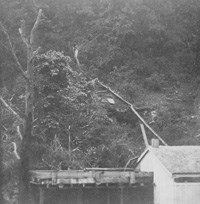 Systems for distributing thermal spring water at Hot Springs National Park have been around a long time, evolving along with the bathhouses. In the first half of the nineteenth century most "bathhouses" were rough wooden shacks or even tents, built over natural tufa cavities (sometimes enlarged) that held spring water. More elaborate bathhouses began springing up in the 1850s. Some boasted individual bath rooms with wooden tubs, requiring a network of wooden troughs to direct thermal water into flumes on the roofs. Inside the bathhouse, bathers pulled a rope, opening a mechanism that released water from the flume into the tub.
When a disastrous 1878 fire destroyed most of the bathhouses along Hot Springs Creek, the government seized the opportunity to improve both bathhouse construction and thermal water distribution. The Avenue Hotel Bathhouse, built in 1880, was allowed to set up a pump on the reservation. The first reservoir was built in 1880 as well. On June 8, 1891 a pumping station and reservoir were completed on the present site of the administration building in order to enhance thermal water distribution. Unfortunately a law passed that same year required water to be transported by gravity flow, and the pumping equipment was never used.
The government built more reservoirs in the 1890s to impound spring water and increase the flow. In 1897 all but four springs were encased in brick archways and their water piped to bathhouses and reservoirs; the remaining springs were enclosed by 1901. On November 10, 1903, Congress authorized funds for building surface and deep reservoirs on Hot Springs Mountain, adding to the collection of older reservoirs already in use. In 1924 National Park Service engineers drew a plan showing the existing complex of springs, reservoirs, and plumbing in preparation for the first central collection, impounding and distribution system for the thermal water, completed around 1931. Meters installed on bathhouse lines were not fully functional until 1933. The present system allows better control and monitoring of the water flow.