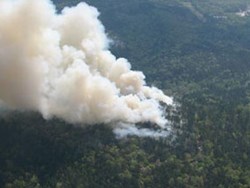 Hot Springs National Park is using prescribed or controlled fires to reduce the fuel load (leaf litter, limbs and logs) on the forest floor to prevent a hot, damaging fire.
Wildland Prescribed Fire Specialist from Buffalo National River and trained fire crew supervisor (Burn Boss) and crew members plan and carry out the burn.
These steps are followed when planning a prescribed burn:
1. Fire plan—outlines details according to regulations
2. Weather readings—wind and humidity must be within safe parameters
3. Equipment available—proper type and amount
4. Man power—enough to carry out a safe burn plan
5. Spread the word--press release
6. Ignite or light the fire at one edge of the area
7. Monitor burning area, making sure it doesn't burn beyond the planned area
8. Cool off burn, let area burn out
9. Mop up
See pictures of the April 12, 2006 prescribed fire on North Mountain.