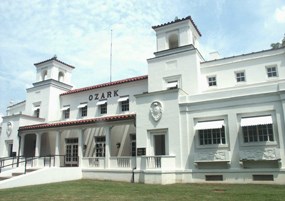 Designed by architects Mann and Stern of Little Rock, the bathhouse was completed in the summer of 1922, just a few months after the Quapaw opened for business. Built at a cost of $93,000 in the Spanish Colonial Revival style, the building is set between low towers whose receding windows suggest the nascent Art Deco movement. Like the Quapaw, the Ozark was more impressive in its exterior facade than in its interior appointments, with only 14,000 square feet and twenty-seven tubs. It catered to a middle economic class of bathers unwilling to pay for frills. The Ozark closed in 1977.

Read a brief history of the Ozark.
Download Adobe Acrobat Reader for this .pdf file.