Hale Bathhouse
Then & Now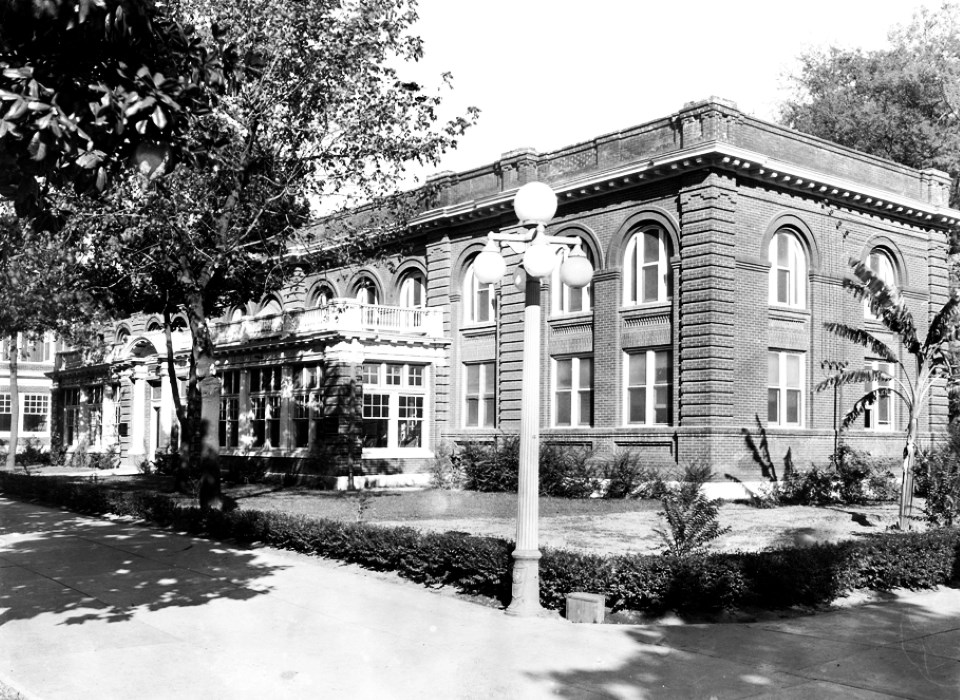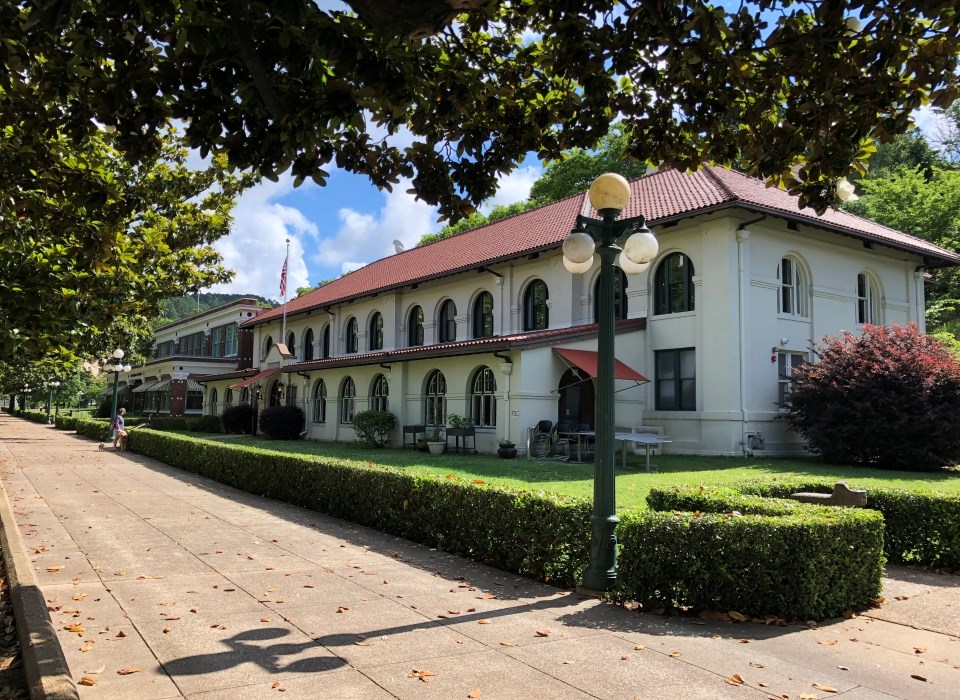 Left image
Hale Bathhouse, 1916.
Credit: NPS Photo/HOSP Archives
Right image
Hotel Hale, 2020.
Credit: NPS Photo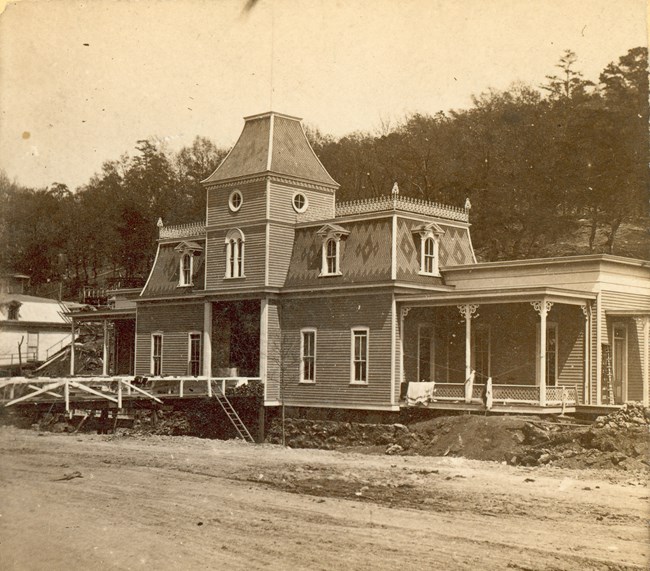 Today
The Hotel Hale has been revived as a luxury hotel and the interior has been remodeled to include a mix of modern and mid-century modern styles. Patrons can stay overnight in historic rooms and experience the thermal springs. To learn more about the Hotel Hale's services and offerings, visit their website.
History
After the Civil War ended, a second Hale House was constructed on the present site, with its bathhouse situated on the opposite side of the creek. Sometime before 1882, a Victorian style bathhouse was built on the site by William Nelson, who signed a water lease for the site in 1879. Construction of the new building cost $5,000.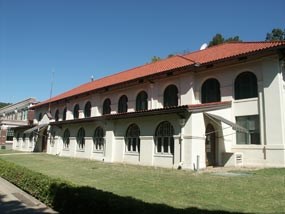 Architecture & Design
Named for early bathhouse owner John Hale, the present Hale Bathhouse is at least the fourth building to use this name. The present Hale Bathhouse is the oldest visible structure on Bathhouse Row. Most of the present structure was completed in 1892, as designed by George and Fremont Orff. A major 1914 remodel by the Little Rock architectural firm of George Mann and Eugene Stern significantly enlarged the red-brick building and modified its style to Classical Revival.The present building has 12,000 square feet on the two main floors. The lobby area was used as a sunroom where guests could relax in rocking chairs. In 1917, one of the hot springs was captured in a tiled enclosure in the basement, and this feature is still in place. This bathhouse also was connected with a thermal cave carved out of the mountainside and used as a "hot room" in the 1890s (it was rediscovered during a 1993 drainage project and is now a federally protected archeological site). In 1939, the building was redesigned by the firm of Sanders, Thompson, and Ginocchio in the Mission Revival style, and the brick was covered in stucco to look as it does today. The Hale closed on October 31, 1978.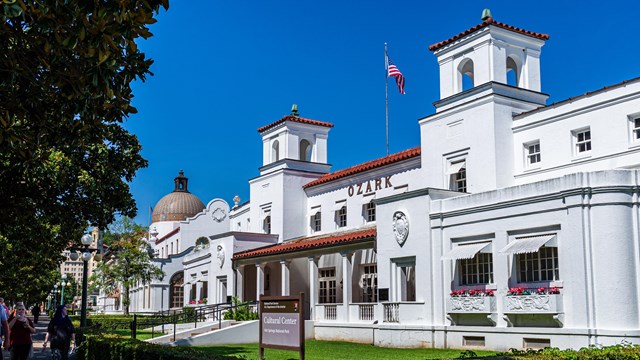 Bathhouse Row
Bathhouse Row is home to the Park's historic bathhouses. Learn about what is available in each of the bathhouses today.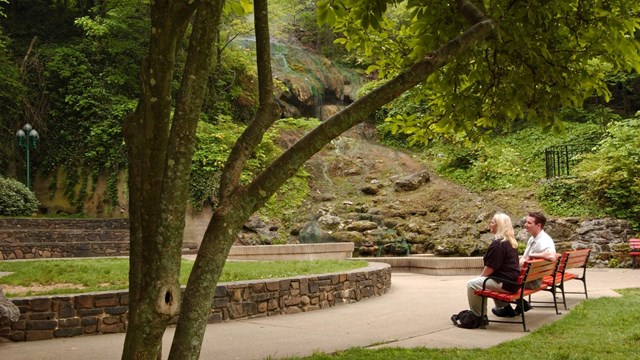 Arlington Lawn
Arlington Lawn features a Hot Water Cascade and hasn't always been what it is today. Learn more about its fiery history.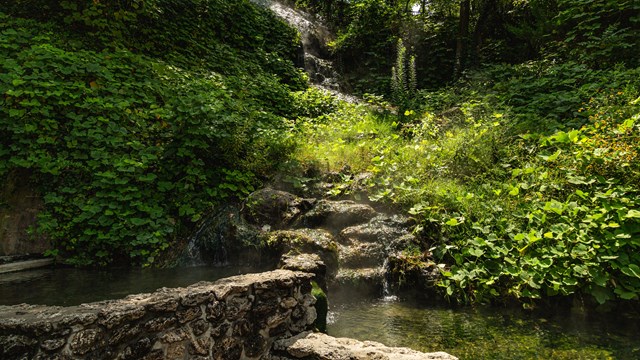 Experience the Water
Learn about the various ways that you can experience the thermal springs in the Park.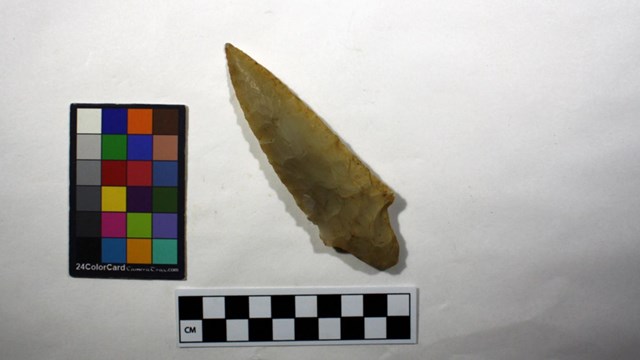 Archeology
Hot Springs NP has a dense, rich archeological record with 92 sites and counting. Learn more about our history's mysteries.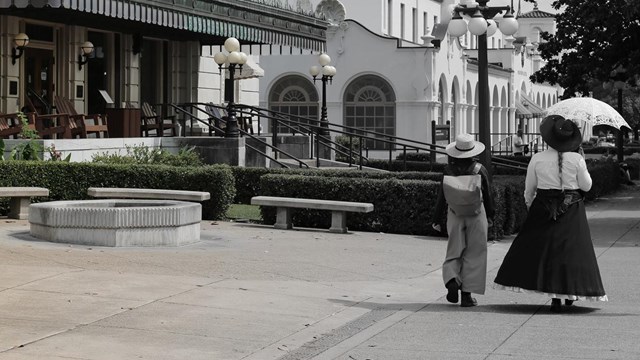 History & Culture
Learn more about Hot Spring National Park's unique cultural and natural history.
Last updated: July 7, 2022