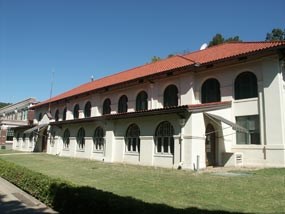 Named for early bathhouse owner John Hale, the present Hale Bathhouse is at least the fourth building to use this name. The present Hale Bathhouse is the oldest visible structure on Bathhouse Row. Most of the present structure was completed in 1892, as designed by George and Fremont Orff. A major 1914 remodel by the Little Rock architectural firm of George Mann and Eugene Stern significantly enlarged the red-brick building and modified its style to Classical Revival. In 1939 the building was redesigned by the firm of Sanders, Thompson, and Ginocchio in the Mission Revival style, and the brick was covered in stucco to look as it does today. The Hale closed on October 31, 1978.
Read a brief history of the Hale.
Download Adobe Acrobat Reader for this .pdf file.