Donald S. Libbey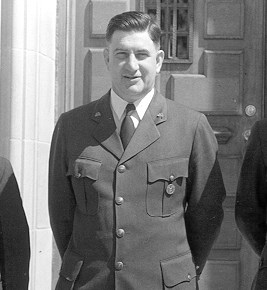 Donald Smith Libbey (1892-1959) served as Superintendent of Hot Springs National Park three times. During his first administration from 1936 to 1938 he welcomed President Franklin D. Roosevelt to the park while on a cross-country tour. Libbey also advocated for the expansion of park boundaries in order to provide more recreational outlets for visitors. He also pushed for the completion of the Grand Promenade and the creation of an outdoor amphitheater for public educational programs.
During Libbey's second administration from 1944 to 1946 he oversaw wartime operations in the park. He also recommended the removal of overhead powerlines along Bathhouse Row in order to improve the cultural landscape and better protect the famous Magnolia trees along the street. During this time the park also took possession of Camp Garraday, the indigent medical facility near the campground operated by the US Public Health Service.
During Libbey's third administration from 1951 to 1959 he dealt with several boundary encroachment issues and he created a detailed outline for the managed development of the park to meet visitor needs in the future. Libbey also advocated converting the former Government Free Bathhouse into a physical therapy center. The re-purposed facility opened in 1953 and was subsequently renamed in Libbey's honor following his sudden death in September 1959.
Last updated: June 16, 2020