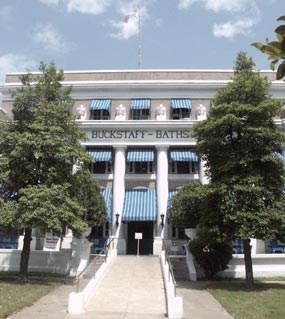 The Buckstaff Bathhouse, named for controlling shareholders George and Milo Buckstaff, replaced the former Rammelsberg Bathhouse. Designed by Frank W. Gibb and Company, Architects, the present bathhouse cost $125,000 to build and contains 27,000 square feet on three main floors. Because it has been in continuous operation since it opened on February 1, 1912, it is one of the best preserved of all of the bathhouses on Bathhouse Row, but it has undergone many changes over the years. Originally it had a large hydrotherapeutic department. Only it, the Fordyce and the Imperial had these.
Visit the Buckstaff Baths website to find out about taking a bath.
Read a brief history of the Buckstaff.
Download Adobe Acrobat Reader for this .pdf file.