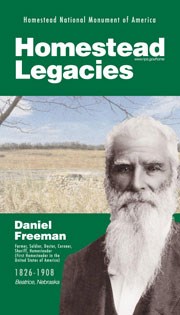 The Homestead Act became the law of the land on January 1, 1863. it remained in effect until 1976, when the Federal Land Policy and Management Act repealed it (though a ten year extension through 1986 was authorized in Alaska).
Over the entire 124-year history of the Homestead Act, four million people filed for 160-acre parcels of the public domain. Of these four million, more than half were successful, fulfilling all the requirements of the government and earning the title to their property. Every single one of these four million, regardless of success or failure, had a personal story.
Homestead National Monument of America exists today to tell those stories and commemorate the accomplishments and memories of all homesteaders. The Monument is currently involved in a project to identify well-known figures in American history that have or had personal connections to the Homestead Act. Some of those identified thus far include: Willa Cather (author); George Washington Carver (scientist, educator); Virgil Earp (frontier lawman); Jeannette Rankin (first woman elected to congress); Laura Ingalls Wilder (author); and Lawrence Welk (entertainer). Each of these people was touched by the Homestead Act and made significant contributions to the world in which he or she lived. Through a generous grant from the Gage County Foundation, Banners have been produced featuring each of these individuals. The banners hang outside the Education Center at the Monument. Links to the stories of some prominent descendents of homesteaders can be found below. If you are a descendant of someone who filed on a homestead you story is important too, go here to learn more about telling your story.