Fees & Passes
There is no fee to visit Homestead National Historical Park. Entrance to grounds, visitor centers, parking areas, and special events are all free. Enjoy your visit!

If you plan to visit other parks that do charge an entrance fee, you can pick up an America the Beautiful Interagency Pass at Homestead National Historical Park. Learn more about the pass program. Also, learn about fee-free days in the national parks.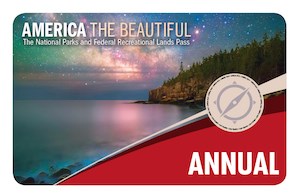 Passes cover:
entrance fees at national parks and national wildlife refuges
standard amenity fees (day-use fees) at national forests and grasslands and at lands managed by the Bureau of Land Management, Bureau of Reclamation, and US Army Corps of Engineers
In general, one pass covers the fees listed above for a driver and all passengers in a personal vehicle at per-vehicle fee areas or up to four adults at sites that charge per person. Children age 15 or under are admitted free. Some passes provide additional benefits, such as a 50-percent discount on camping at some sites for holders of Senior or Access Passes. Always check with individual sites for details.
Available passes include:
Annual Pass
Annual Pass for U.S. Military
4th Grade Pass
Senior Pass: The price of the lifetime Senior Pass increased to $80. A $20 annual Senior Pass is also available. See more information about changes to the Senior Pass.
Access Pass
Volunteer Pass
More information about the America the Beautiful – The National Parks and Federal Recreational Lands Pass Series, including available passes, costs, benefits, and how and where they may be obtained, is available. Learn More About National Parks and Federal Lands Passes
Last updated: May 1, 2021