District 9 Ohio History Day - 2015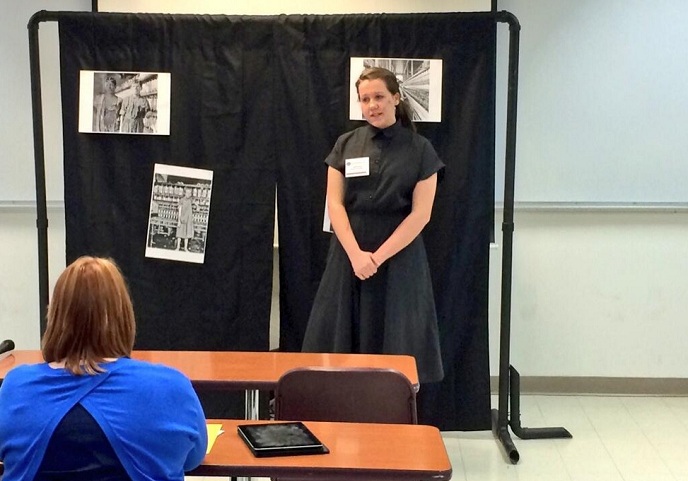 News Release Date:
January 16, 2015
Contact: Susan Knisley, 740-774-1126
District 9 National History Day in Ohio Contest 
Date: Saturday, March 28th, 2015
Time: 8:00 am - 3:00 pm
Location: Bennett Hall on the Ohio University-Chillicothe campus
Fees: Competitors require a registration fee.  Program competition is free to guests and visitors.
National History Day in Ohio is a year-long program where students choose a topic, tied to an annual theme, and create historical papers, dramatic performances, creative documentaries, museum-like exhibits and websites. Their projects are based in primary and secondary source research and reflect their analysis of the historical topic.
Hosted by Hopewell Culture National Historical Park in partnership with the Ohio History Connection and Ohio University-Chillicothe, the event will take place on Saturday March 28th at Ohio University's Chillicothe campus. Students in grades 6th-12th from ten southern Ohio counties will be represented in this history-centered competition. Counties in District 9 include Athens, Gallia, Hocking, Jackson, Lawrence, Meigs, Pike, Ross, Scioto, and Vinton counties.Students will compete at two different levels: 6-8 in the Junior competition and 9-12 in the Senior competition. Each year, hundreds of students across the state participate in National History Day in Ohio.
The 2015 National History Day theme is "Leadership and Legacy in History."  District competitions run throughout March.  Over 6,000 students participated in the program statewide in 2014. Students first participate in a district level contest, where they compete for the opportunity to move on to the state level contest on Ohio History Day. The Ohio History Day state-level contest is April 25, 2015 at the Union at the Ohio State University. Students in grades 6-12 will compete to earn scholarships, special awards and ultimately a chance to represent Ohio at the national event. For the many students that do not move on, the valuable comments they receive from judges are the most important thing they will take home.
Exhibit rooms will be open to the public on Saturday, March 28th from 12:30pm – 1:30pm at Bennett Hall on campus at Ohio University-Chillicothe. Exhibit rooms remain closed during contest judging. History Day is an exciting co-curricular program that makes history come alive for students as they explore a historical topic related to an annual theme. Students learn history by doing history as their research leads them to imaginative exhibits, documentaries, original performances, websites, and papers.  
To learn more, including how to enter a project or volunteer as a judge for the event, visit the Ohio History Day website. 
For a map to the Ohio University-Chillicothe campus, visit the park's National History Day web page.
Last updated: April 10, 2015